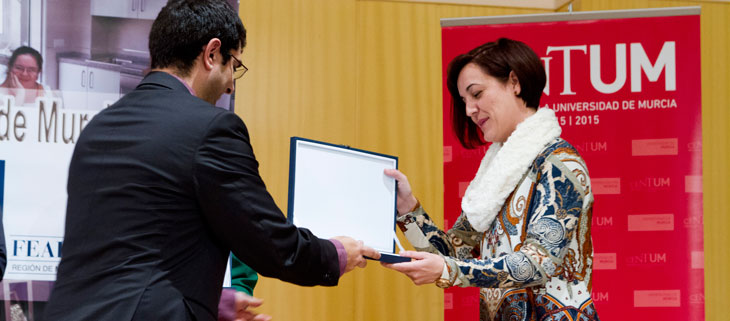 Blendhub Corp. receives a mention in the Laurel Awards
Recognizing the support for the inclusion of workers with intellectual disabilities
Last Thursday, February 26th, Blendhub Corp. recieved a special mention in recognition of its support for the inclusion of workers with intellectual disabilities during the fifth edition of the Laurel Awards. This award is given by the Federation of Organizations for Persons with Intellectual Disabilities of Murcia, FEAPS Murcia.
A total of thirty-one companies were recognized by FEAPS Murcia with a mention for starting to work with the federation. For Blendhub Corp., the award acknowledges the support for the labor market's inclusion of workers with intellectual disabilities by incorporating an intern in its offices in Murcia.
Organizations that received the Laurel Award, edition 2015, were the Council of Las Torres de Cotillas, Repsol Foundation, NH Cartagena Hotel, Pedro Cano Foundation, Hospital of Virgen del Alcázar de Lorca, the Culture Service of the University of Murcia (UMU), and New Capital 2000.
Blendhub Corp., we are open, we are anywhere.