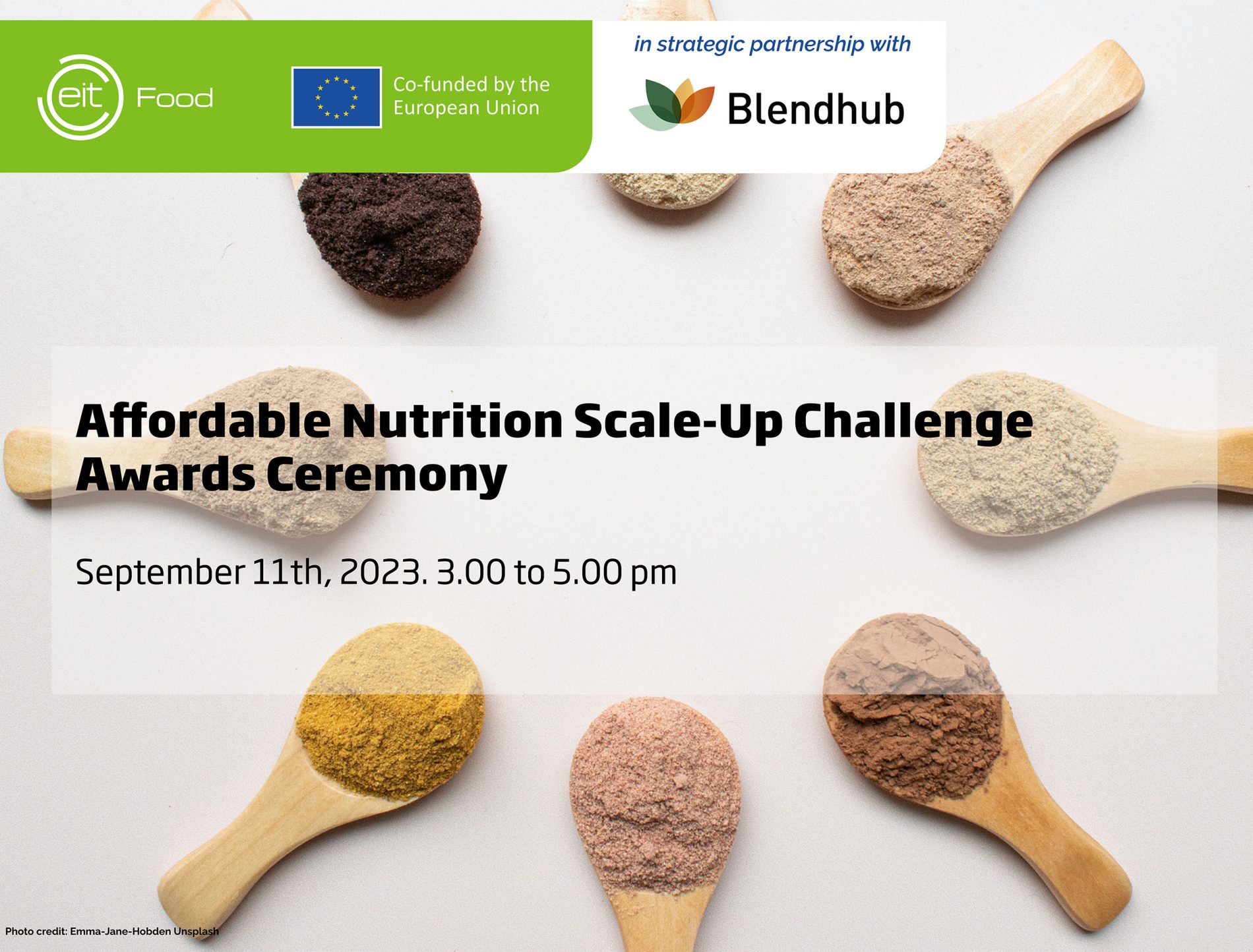 04 Sep

10 European startups selected in the Affordable Nutrition Scale-Up Challenge

The award ceremony will take place on September 11 at Blendhub´s Spanish Food-as-a-Service hub in Murcia.

EIT Food and Blendhub launched this initiative back in April 2023 inviting startups and scaleups with innovative ingredients or food formulations to apply and contribute to the promotion of healthy and sustainable diets in Europe. The recognized projects will receive services worth €25,000 helping them from idea through intelligent targeting to product market launch in any European country.

The selected companies behind the recognized projects come from Spain, Italy, France, Portugal, the Netherlands, Poland, Denmark and Israel and their corresponding projects stand out for having developed innovative solutions in the field of alternative proteins, plant-based ingredients and more sustainable food formulations with the objective to mitigate food waste.

Blendhub's platform business model and long history developing innovative food products containing powder based food ingredients, together with EIT being an independent EU body focusing on increasing Europe's ability to innovate by nurturing entrepreneurial talent and supporting new ideas, will together help the awarded companies surpass innovation barriers and shorten the time from ideation to market launch of healthier, more nutritious and affordable food products to European consumers.

The event will be attended both by representatives of EIT Food, Blendhub and other representatives and professionals from the Spanish and European food innovation ecosystems.

Andreas Bluethner, former Director Nutrition of the Bill & Melissa Gates Foundation and active member of the Humanitarian and Resilience Investing Initiative of the World Economic Forum among others, will open the event with an inspirational keynote that will precede the awards ceremony. The event can be followed by streaming through the following link, from 3 to 5 pm CEST:

The Affordable Nutrition Scale-Up Challenge is a project under the support of EIT Food being the world's largest and most dynamic food innovation community, supported by the European Institute of Innovation and Technology (EIT), a body of the European Union.