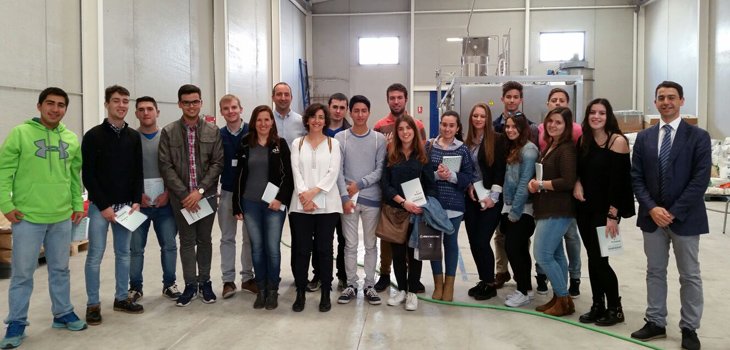 20 Apr

Administration and Business Management students of the Polytechnic University of Cartagena visit Blendhub

The event, scheduled for students of a Human Resources Management class, is part of a call for assistance from the center for conducting scientific­educational activities

On Friday April 15th, students of Administration and Business Management from the Faculty of Business of the Polytechnic University of Cartagena visited Blendhub, a group of companies specialized in the formulation and blending of food powder products, which creates solutions, services and equipment for the agri­food industry.

The visit took place within the framework of the program for conducting scientific and educational activities of the Faculty of Business 2016, aimed at complementing the teaching hours of the students of the subject Human Resources Management ­ first year of the Degree in Business Administration.

The goal of the activity was to strengthen the own knowledge of the subject and provide the academics an understanding and a more useful and accurate view of business reality.

The students from the Polytechnic Universi[gdlr_text_align class="center" ]CONTENT_HERE[/gdlr_text_align]ty of Cartagena had the opportunity to visit the world's first portable and modular plant for blending food powder ingredients, developed and internationally patented by Blendhub This factory, supported by the full­service platform of the Murcian company, is the cornerstone of its business model "Food Powder Blends Anywhere", enabling anyone to produce food powder blends anywhere in the world and the value chain.

The international presence of Blendhub, together with its values and vision ­lead a change in the agrifood value chain that enables access to basic food stuffs to be more just and safer, reaching more people in more places­ constitute a major challenge for its People Organization department, which the students had also the opportunity to know.

On the occasion of the visit, the teachers responsible for the subject of Human Resources Management thanked Blendhub the collaboration offered always to the Polytechnic University of Cartagena. "As a group leader in innovation and technology in the food sector, Blendhub provides our students a clear and close example of business excellence," they said from the center.

Blendhub, we are open, we are everywhere.