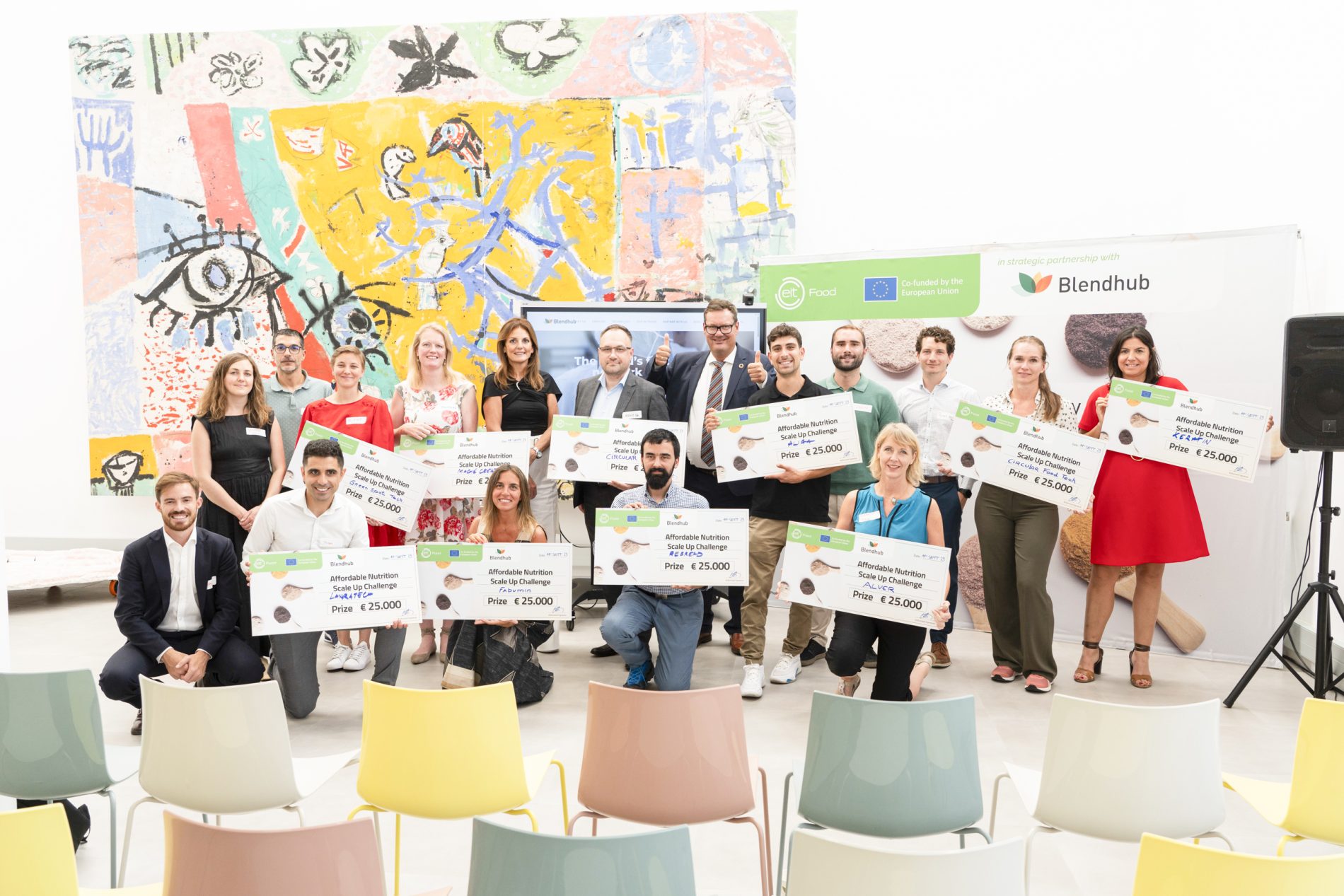 12 Sep

Awards Ceremony of the Affordable Nutrition Scale-Up Challenge

Ten European startups have been awarded in the Affordable Nutrition Scale-Up Challenge launched by EIT Food and Blendhub in April. Startups and scaleups with innovative ingredients or food formulations were invited to apply and contribute to the promotion of healthy and sustainable diets in Europe.

The awards ceremony took place yesterday in Blendhub's Innovation and Co-creation and Center in Murcia (Spain). The recognized projects have received services worth €25,000 helping them from idea through intelligent targeting to product market launch in any European country.

The selected companies come from Spain, Italy, France, Portugal, the Netherlands, Poland, Denmark and Israel. Their projects stand out for having developed innovative solutions in the field of alternative proteins, plant-based ingredients and more sustainable food formulations to mitigate food waste.

Rebread, Poland. They provide the bakery and retail industry with a scalable solution that simultaneously helps to reduce the global problem of bread waste and provides a highly nutritious upcycled ingredient with exceptional sensory qualities and multiple applications.
Aliga, Denmark. Their initiative consists in the development of a sustainable, healthy and nutritious beverage system, formulated with their plant-based, chlorophyll-free white Chlorella powder ingredient as natural enrichment of proteins, vitamins, minerals and fibers.
Circular Food Technology, Denmark. Up-cycled spent grain flour is a versatile and easy applicable ingredient for the bakery industry enhancing both nutrition and culinary value of their products. They want to improve the baking qualities to reach 20% of flour content in applications without compromising quality.
Alver, Netherlands. Alver develops an innovative solution with Diamond Chlorella. It is a fermented microalgae which is milky white in colour and neutral in taste. It has naturally 50% protein, a full amino acid profile, rich in omegas, iron, zinc, magnesium & vit B. It has emulsifying and gelling properties, ideal vegurts and alternative milk.
Landratech, Portugal. The Portuguese company aims to assess the technical and economic feasibility of scaling up the production of bioactive-rich extracts from acorn-based coffee substitutes.
MaGie Creations, Netherlands. MaGie Creations upcycles food by turning beer grain into a sustainable and nutritious ingredient for the food industry with its custom-made upcycling process.
Fabumin, Israel. They developed a method for drying aquafaba into a powder, which becomes a new ingredient for the food industry: substitute for egg. The powder does exactly what an egg does: binds, foams and emulsifies.
Keratin, Spain. Their innovative ingredient "Gold Protein" is produced by hydrolyzed, decolorized protein powder from livestock blood. Its high digestibility, essential amino acids, and bioavailable iron make it suitable for various food applications. It meets global protein demand, promotes nutrition and sustainability.
Green Spot Technologies, France. Green Spot Technologies is a French-based company that produces and markets the first range of fermented and upcycled multifunctional ingredients. Green Spot's Ferment'Up flours combine sustainability, naturality, and quality all in one and for everyone.
Circular Fiber, Italy. Circular Fiber addresses the challenge of food waste generated by the agri-food industry by regenerating artichoke waste into nutritious vegetable flour. They aim to promote circular economy concepts by managing processing wastes and converting food waste into value-added products.
Dr Adam M. Adamek, Director of Innovation at EIT Food, said: "The challenge is not just an opportunity to accelerate innovation in the nutrition space, but also a pathway to improve food systems through cutting-edge innovations. It's crucial that entrepreneurs are equipped with the tools they need to prioritise sustainability, accessibility, and diversification in nutrition solutions.
"We are thrilled to be collaborating with Blendhub to award funding and support to such an innovative and promising cohort of startups. We were profoundly impressed by the high quality of applications and the commitment to affordable nutrition. We eagerly look forward to working with the ten winning startups to help them realize the full potential of their trailblazing innovations."

Henrik Stamm Kristensen, Founder and CEO of Blendhub, stated: "Blendhub's platform business model and long history developing innovative food products containing powder based food ingredients, together with EIT Food focusing on increasing Europe's ability to innovate by nurturing entrepreneurial talent and supporting new ideas, will together help the awarded companies surpass innovation barriers and shorten the time from ideation to market launch of healthier, more nutritious and affordable food products to European consumers".
The event was attended by representatives of EIT Food, Blendhub and other representatives and professionals from the Spanish and European food innovation ecosystems.
Andreas Blüthner, Founder & CEO, Dr. Blüthner & Partner, Former Director Nutrition, Bill & Melinda Gates Foundation and active member of the Humanitarian and Resilience Investing Initiative of the World Economic Forum, opened the event with an inspirational keynote on the importance of innovation to scale-up access to basic nutrition.
The Affordable Nutrition Scale-Up Challenge is a project under the support of EIT Food.