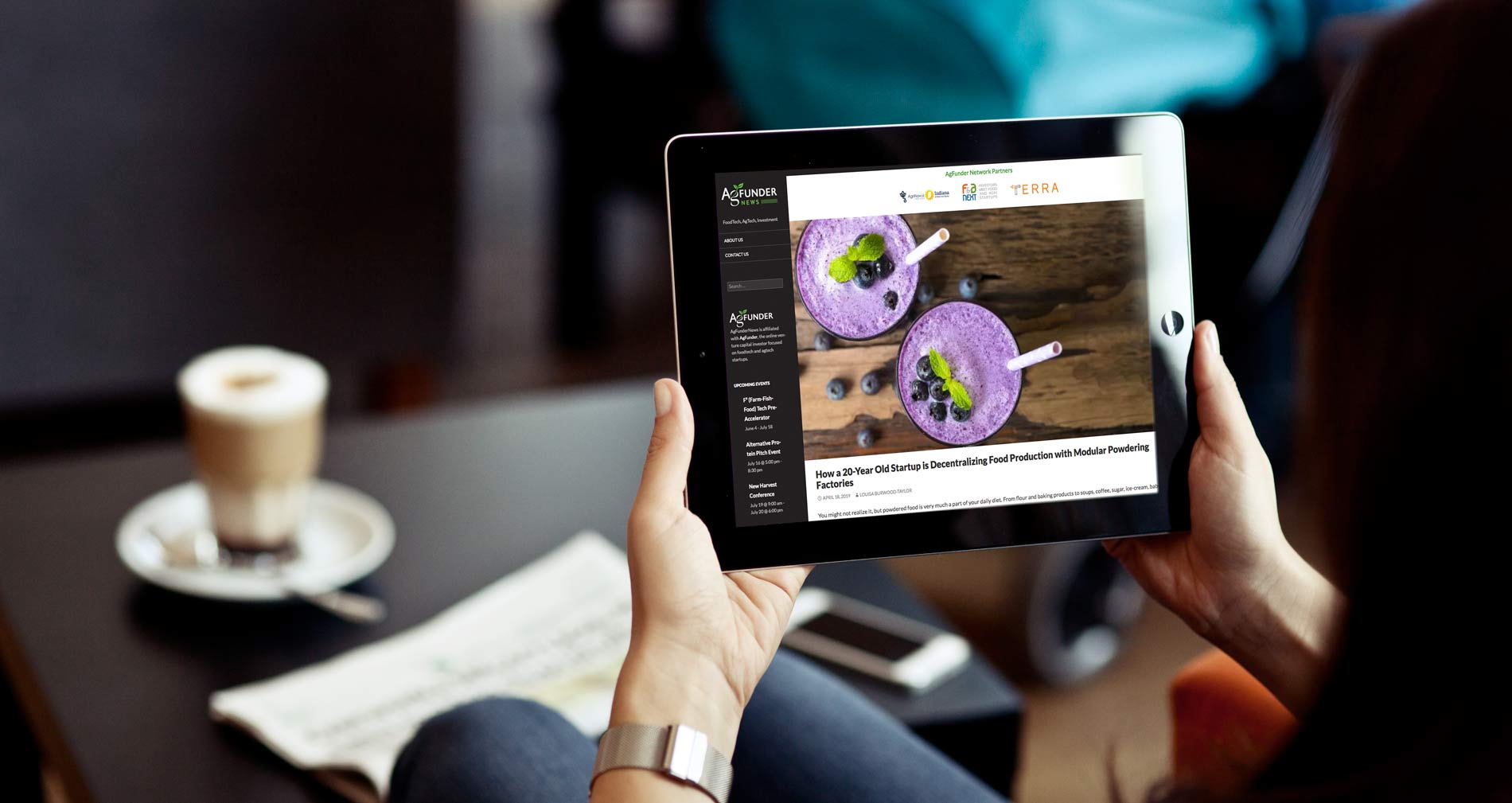 19 Apr

Blendhub in AgFunder News

Blendhub featured on an article from AgFunder News on April, 2019.

Read the full story below:
How a 20-Year Old Startup is Decentralizing Food Production with Modular Powdering Factories
You might not realize it, but powdered food is very much a part of your daily diet. From flour and baking products to soups, coffee, sugar, ice-cream, baby food and spices, a lot of the food you and your family consumes has at some point been in powdered form.
In fact, with the advent of new food trends such as meal replacement shakes and nutraceutical supplements, powdered food is growing more rapidly than ever.
Today it's in the hundreds of millions of tons but Henrik Stamm Kristensen, CEO of Blendhub, a powder blending company, says he cannot be more specific.
"This is a case of exponential growth and speculations on volumes are pure inventions," he tells AgFunderNews. "Food powder is the biggest single food product in the world, has a long shelf life with minimum waste and an infinite amount of recipes with millions of different ingredients for any person in the world."
Blendhub is a Spain-headquartered global business that's been designing and powdering food products for clients for over 20 years. Launched in 1997 as Premium Ingredients, Kristensen has always had a mission behind his work. Back then it was to ensure transparency in the powdering process, a departure from the typical "black box" model where food companies would have little insight into exactly how their products were processed.
Creating a DropBox for Food Production
To provide this transparency and improve efficiencies in the process, Kristensen, who had been using second-hand machinery in rented property, decided to build a state-of-the-art facility in Murcia, Spain, deploying the latest in technology.
But shortly after this new, €15 million multi-story factory was completed, after over two years of construction, Kristensen decided to turn his whole business model on its head.
"After finalizing the plant in 2004, I understood that "static-factories" were not the way forward in the creation of a sustainable business model to ideate, test, validate and launch powder-based food products for anybody, anywhere," he says.
He decided that the current structure of the food system, where "around 100 big food and ingredients industries around the globe produce just 20% of the world's food and around 500 million SMEs/start-ups with little access to technology and finance are producing the remaining 80%" needed to change.
"With 800 million people globally still going to bed hungry and more than a billion suffering from diabetes and malnutrition, while at the same time 30% of food is wasted, it seems clear something is not working with the current model," he says.
So in an effort to decentralize that system and bring new technologies and capabilities to a wider range of food businesses across global geographies, he took the technologies from his factory and built a 40 square foot, portable container factory that could be deployed anywhere in the world within six months.
"I was inspired among other things by the smartphone, which was growing fast towards main market adoption during these years by connecting hardware with software in a standardized platform business model which could be adopted by any consumer, anywhere in the world," he says.
Blendhub now has what it calls CloudBlending hubs all across the world from Mexico and Colombia to India and Europe.
The ability to blend recipes closer to ingredients suppliers or to final customers can cut many costs that are unassociated with the final product, he adds. The design and concept of each container factory can be modified and improved according to the specific product or consumer needs, and each container factory is monitored and controlled through Blendhub's proprietary cloud-based software.
"If all this is implemented, it will result in faster, safer and cheaper food and nutrition to consumers," says Kristensen.
For Corporates and For Startups
For corporates, Blendhub means they don't need to build their own factories, taking pressure off their capital expenditures. It's also a security cover  — a business contingency plan — for businesses that have factories in risky locations; if an earthquake hits their factory, they can still continue to produce, examples Peleg Chevion, president and chief commercial officer of the business. 
Blendhub can also help these businesses expand their product lines more easily, particularly into growing consumer trends such as gluten-free, and the company counts some of the largest food companies as clients.
But it's not just for large engrained corporates; for startups, it's a very interesting and important initiative, argues Chevion. Startups often struggle to find space in larger, existing factories, or the right set-up to manufacture the small quantities they're bound to start with. Scalability is also a big challenge for them.
"How do you grow the market? Assume you're a UK company and you want to enter India, how would you do that? You either produce in the UK and ship it over with tariffs killing your business, or you produce locally. But finding someone local to source and produce for you to meet your specific standards is not easy. And you'd have to fly people all over the world to perform due diligence on the factories and so on. All our factories are identical. We provide market access and have 20 years of expertise for developing startups to take advantage of."
Blendhub can also help startups make the decision on where to expand to next using predictive big data analytics based on ingredients prices and tariffs. "We can tell them the best place to produce something and where to source from," says Chevion, adding that Blendhub has hubs in Colombia and Mexico because Mexico has NAFTA to the US and Colombia has open trade on most products with Brazil. 
Chevion adds that powdering with multiple ingredients is much more complex than you might think. "You'll often have entrepreneurs that want to create something but have no idea about textures, flavor or solubility, so we can help them from day one, including registering their product as a food product," says Chevion. Blendhub is also working with packaging companies to provide packing services to clients within the container factories. as refined its processes and technologies over the years to ensure quality control and transparency.
 Blendhub is still iterating the business model, but there are many more routes it could go down including a franchising model as well as pay-per-use, value-share, and licensing the technology.
"At Blendhub, we believe that multi-localized open production platforms for food and nutrition, open source global innovation and technology centers working as a true network and cross-functional personal and industry collaborations," says Kristensen.
Article by Louisa Burwood-Taylor
Source: https://agfundernews.com/how-a-20-year-old-startup-is-decentralizing-food-production-with-modular-powdering-factories.html