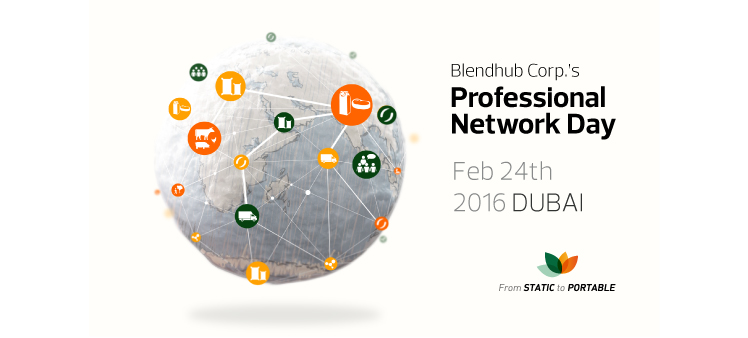 03 Feb

Blendhub's Professional Network is celebrating its first international event in Dubai
The company will host the event in connection with Gulfood on Wednesday the 24th of February at the Conrad Hotel in Dubai including a general introduction to the network and the concept of "shared value through collaboration"
Blendhub is launching its Professional Network to professionals and SMEs who share their vision and values, and are open to collaborate in a transparent way with the objective to create joint business opportunities and shared value for stakeholders in the entire agri-food value chain.
The Blendhub Professional Network is a global movement aimed at supporting a new business model offering "Food Powder Blends Anywhere", based on the world´s first Portable Powder Blending process plant supported by a unique full-service platform, bringing together all the necessary assets and know-how to produce food powder blends Anywhere in the world or the value chain with highest food safety, lower costs and minimum risk for the industry and the final consumers.
Blendhub is leading a change in the agri-food value chain that enables access to basic food stuffs to be more just and safer, reaching more people in more places. The move towards fulfilling this vision has started by offering a transformation of the food production delivery platform from static to portable, giving small and medium sized companies the same opportunity to produce high quality foods comparable to the world's biggest brands and, in addition, to create local value, using local raw materials and managed by local people.
Blendhub offers visionary stakeholders an opportunity to participate in a movement that challenges the way the agrifood sector operates and creates value today. People aspiring to become a part of the Network are food industry stakeholders either contributing with specific know-how, superior technology or a solid and valuable industry network.
Blendhub will articulate the relationship with the members of their network through a collaboration agreement that verifies the mutual value contribution between the company and the networkers.
After successful events in Spain with mainly European participants, Blendhub has decided to launch the Professional Network at an event to be celebrated on Wednesday the 24th of February in Dubai, coinciding with Gulfood 2016. This will be the first Network Day held outside Spain and those interested in attending the meeting to learn more about Blendhub, the business model and the network of collaboration are most welcome to contact Mr. Peter Olsen, Corporate host at Blendhub. (polsen@blendhub.com) to request an invitation and further details about the event.
Blendhub takes food "from static to portable"