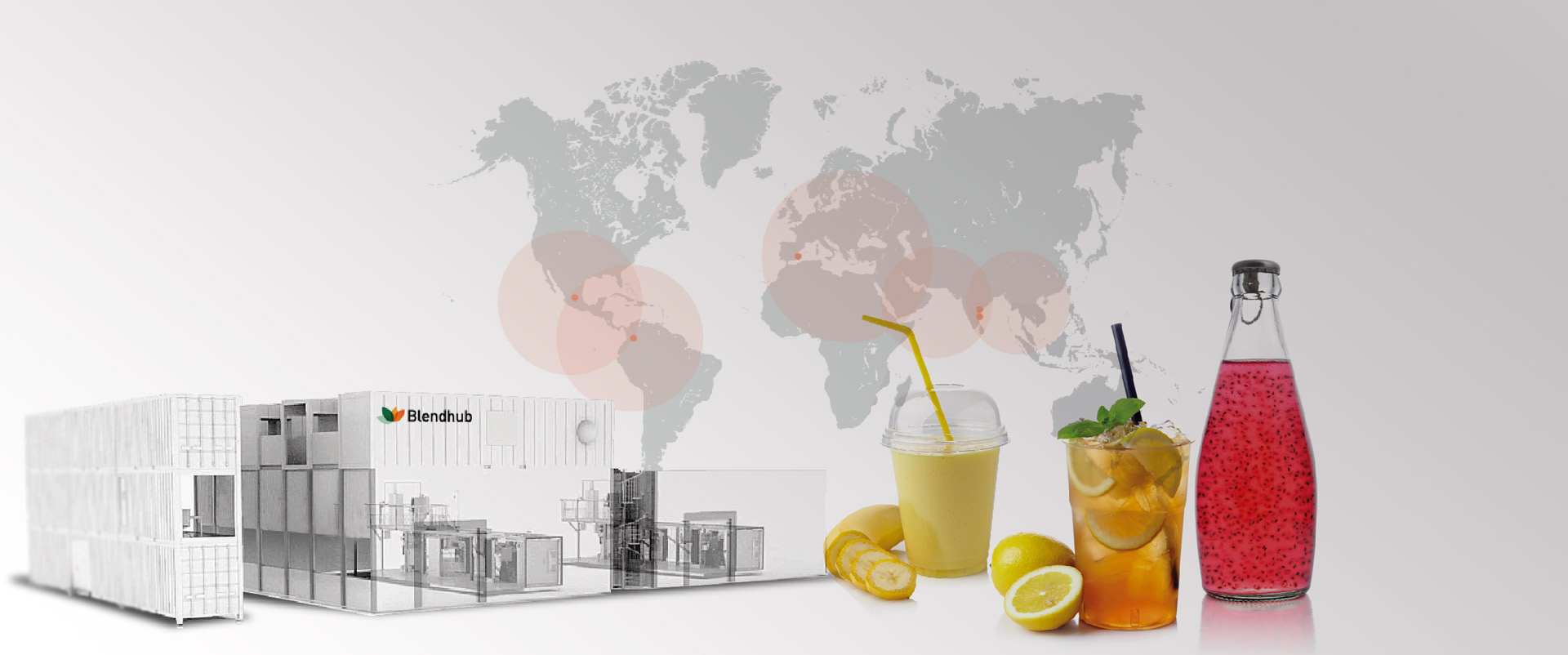 30 Jun

How to move forward in 2021: our solutions for local production might be the answers you are seeking
Supply chain disruption, high rates of unemployment, and overall economic distress pose new challenges for the food and beverage industry worldwide.
What we have been (and still are) experiencing with COVID-19 makes clear that we must rethink some of the ways to conduct business. Most of HoReCa establishments have been closed for months, and consumer purchase power is rapidly declining. Food and beverage companies around the world were forced to temporarily stop production lines, delay distribution, and cope with losses.  
With no clear sign that this is going to be a one-time event, many are wondering: can we make the industry more resilient to these circumstances? Can we reduce operations costs without compromising quality and safety? Is it possible to minimize the risks of launching new products and expanding to new markets in these times? 
The answer to all these questions is yes. 
Local vs
.
 Global – then and now 
The term "glocalization" gained traction in the early '90s, as the answer to target local markets with a global mindset. It was a costly business model. Finding reliable sources for ingredients took months of research, testing, and validation. In many cases, it was less risky to acquire processing facilities all over the world than to rely on local partners. In the end, companies had to build the entire supply chain from scratch, lock in massive CAPEX, and often depend on intermediaries that only added costs and brought no value. 
Now, technology drives the way. Blockchain traceability, advanced data analytics, and cloud computing lead the change, allowing safe, scalable localized production like never seen before.   
Blendhub has developed modular smart factories using Industry 4.0 technology to make food production safer, more efficient, and less costly.  
Quick to deploy and scale, these production hubs allow our customers to allocate their production of ingredient premixes and final products anywhere from Asia to LatAm.  
That is why we are regarded as the preferred partner to localize powder blends production, attracting hundreds of companies around the world.  
Your solution for localizing
 production
 at scale 
After almost 25 years in business, Blendhub is a world–class specialist in food and ingredients.  With production hubs in the Americas, Europe, and the Asia-Pacific, we currently serve customers in over 60 countries.   
All facilities follow a strict replication model for infrastructure and processes, making them identical in terms of operations, quality, and safety.  
Companies and brands trust the development and production of their blends to any of our FSSC22000 local hubs. We assure them that production will always be consistent, no matter where they operate. 
A contingency plan
 when 
you need it, 
where you need it
Full flexibility is a luxury not many companies can afford. Within our cloud-connected production hub network, you can respond faster to peak demands, work complex recipes, test formulations, manage allergens, expand production lines, or substitute unavailable ones with ours.   
Optimize operations and processes
You can streamline procurement and logistics by sourcing raw materials locally, producing near your target market, and distributing according to the best tariffs and trade routes. Furthermore, with us, you can develop and produce tailormade premixes that will save you time and resources when managing ingredients, from purchase and storage up to weighing and application.  
Expand your geographic reach
Instead of acquiring or building new facilities, working with us allows you to reach other geographies by producing locally with the highest standards. Our identical, modular production facilities, our experienced staff, and our replicated processes enable you to enter new markets anywhere. Benefitting from our local teams' expertise and network, you will be able to play as a "local," gaining market access and insights on how to adapt to local conditions and tastes.  
Innovate faster
How long does it take to ideate, develop a new product, test it on the market, and scale production? Most companies say it can vary from several months up to several years.   
Using our local production hubs can speed up development and launch to as fast as 90 days, without fixed investment in R&D. We have the pilot plants to host your trials, the flexibility to accommodate your market tests, and the capacity to scale-up production as needed.  
More than 
toll
 manufacturing
At this point, you have realized that Blendhub offers much more than the usual co-packer.  Our unmatched Service Suite offers food and ingredient production services in a flexible pay-per-use system.   
Contract manufacturing

.

 

C

ore services include 

h

igh precision blending

 with

 the option of

 liquid injection

, 

and full technical support

.

 

Recipe

 

design

.

 

Upon

 request, our technical teams will help to

 

formulat

e

 a

 

new functional blend or 

adapt

 

a

 

recipe

 to local 

needs

. 

Our

 

customized 

formulations

 always

 fit 

customers' 

expectations 

of

 

quality, functionality, and costs

.

 

Procurement and Logistics

.

 

Using advanced 

data analytics

, 

Blendhub can 

find

 the best raw material pro

viders, 

optimize 

tariffs

,

 and

 predict the 

most advantageous

 trade routes

 for 

you

.

 

Market access.

 

O

ur local teams 

can 

leverage

 their expertise when

 you are

 looking into 

entering a 

specific country. 

We have helped many companies to minimize risks and finding the right partners

 all over the world.



Highest quality and safety, anywhere
The main reason our customers trust us with their products is that we deem quality and safety as the absolute priority. We will spare no effort when accessing the most advanced technology. All our hubs use the same Quality Control hardware and software, and share results on the cloud in real-time.  
Our systems are based on the software Chemometric Brain. It uses Near-Infrared Spectrometry (NIRS) to provide our customers with maximum recipe accuracy.  The technology enables us to control every raw material and final product, preventing food fraud, allowing us to react immediately to inconsistencies, and ensuring the precise replication of recipes in any of our production hubs.  
Besides being certified for FSSC22000, all our hubs are FDA, CODEX, or CE compliant. Depending on location, also for ISO 9001, ISO 14001, OHSAS 18001, ISO 45000, and FSSAI. Over the years, we have been validated and vetted by the biggest companies in the Food & Beverage industry. 
Partnering in n
ew deployment
s 
Most of our customers use our pay-per-use services to develop new premixes and to produce within our global hub network.  
However, many companies look for a way to boost their production capacity on a specific location, near their raw material sources or their processing plants.  
Our modular and replicable food production hubs have proven to be the ideal solution for those partners. The entire facility can be set up on any location in less than six months. All production machinery and systems fit a 40' container and, upon arrival, the production unit is assembled and start operating in only 72 hours.  
Currently, we have two partner production hubs under development in North America. We are planning new deployments to South America, East Asia, the Middle East, and Australia in the next two years.  
Stimulating 
the circular economy 
There are two ways we help customers to be more sustainable. Firstly, working with food powders allows us to save much of the transportation and emissions compared to working with liquids and fresh produce.  
Moreover, by producing next to raw material sources or the consumer market, you are also reducing your carbon footprint, boosting local economies and empowering communities.  
Blendhub's business model has been regarded by several institutions as one of the most impactful solutions to promote the circular economy worldwide.  
We are proud of contributing to the UN's 2030 Sustainability goals 2, 12, and 17. We are happy to partner with any company or brand that shares the same values.  
Ready to 
explore
opportunities
? 
Our goal is to make the beverage industry more resilient to unforeseeable events and to bring safer and better food products to the market faster. Contact us now to start innovating with new products and premixes, optimizing your operations, and reaching new markets like a local player. We are looking forward to hearing from you!