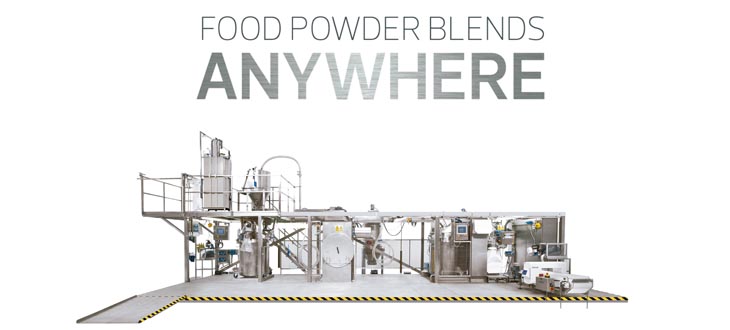 06 Jul

Premium Ingredients Mexico transfers its portable production plant from the Federal District to Lerma

The company shows the flexibility to optimize the supply chain, improve production costs and achieve more agile lead times of the factory

Premium Ingredients Mexico, a Blendhub company, has moved its portable powder blending (PPB) production plant from Mexico City to Lerma showing how this facility offers any stakeholder of the agri-food industry the highest possible flexibility to optimize their supply chain, improve production costs and achieve more agile lead times.

The portable production plant PPB is transported in a 40-foot container and can easily be moved to any geographical location or point in the supply chain, ensuring the production of high quality and safe food powder blends with liquid injection. It also reduces manufacturing costs and financial and operational risks. These elements prove Blendhub's capacity to offer products, services and equipment with a unique and comprehensive offering for the sector.

Premium Ingredients México has taken the decision of changing the location of its factory in Mexico after noticing the significant operational and logistical opportunities that the location of Lerma offered the company. Also, to better accomplish with the international food safety standards. PPB was initially launched as a collaboration project with a local company trough Blendhub's model "Franchise" in Mexico. With the relocation, it has been transformed into a "Master" project where Premium Ingredients México manages and operates the plant entirely for its formulations as well as for those from other companies and independent formulators in the sector.

The Mexican company is with the change of location of its portable production plant from the Federal District to Lerma in a better position to implement its offering Food Powder Blends Anywhere in the American continent being located in the center of the country, with excellent connections by sea, air and land, and avoiding the agglomerations due the population density of the capital.

Lerma is close to the ports of Veracruz and Manzanillo, has access to the Pacific and the Atlantic oceans, and is five minutes away from the airport of Toluca, making it easy for the business' customers to visit its facilities and know their innovative portable plant. Also, Lerma is connected with the intermodal corridor to the USA, and the main logistic hubs of the country, which move 70% of the Mexican population.

The change of location of the portable production plant will equally be beneficial for the transport of raw materials and final products, optimizing costs and reducing the price of Premium Ingredients Mexico's goods and lead times, both for this company and others.

This strategy allows the group Blendhub to be in an excellent position to be the ideal partner of any Mexican businesses or companies aborad wishing to introduce its food powder blends into the NAFTA and the American continent.