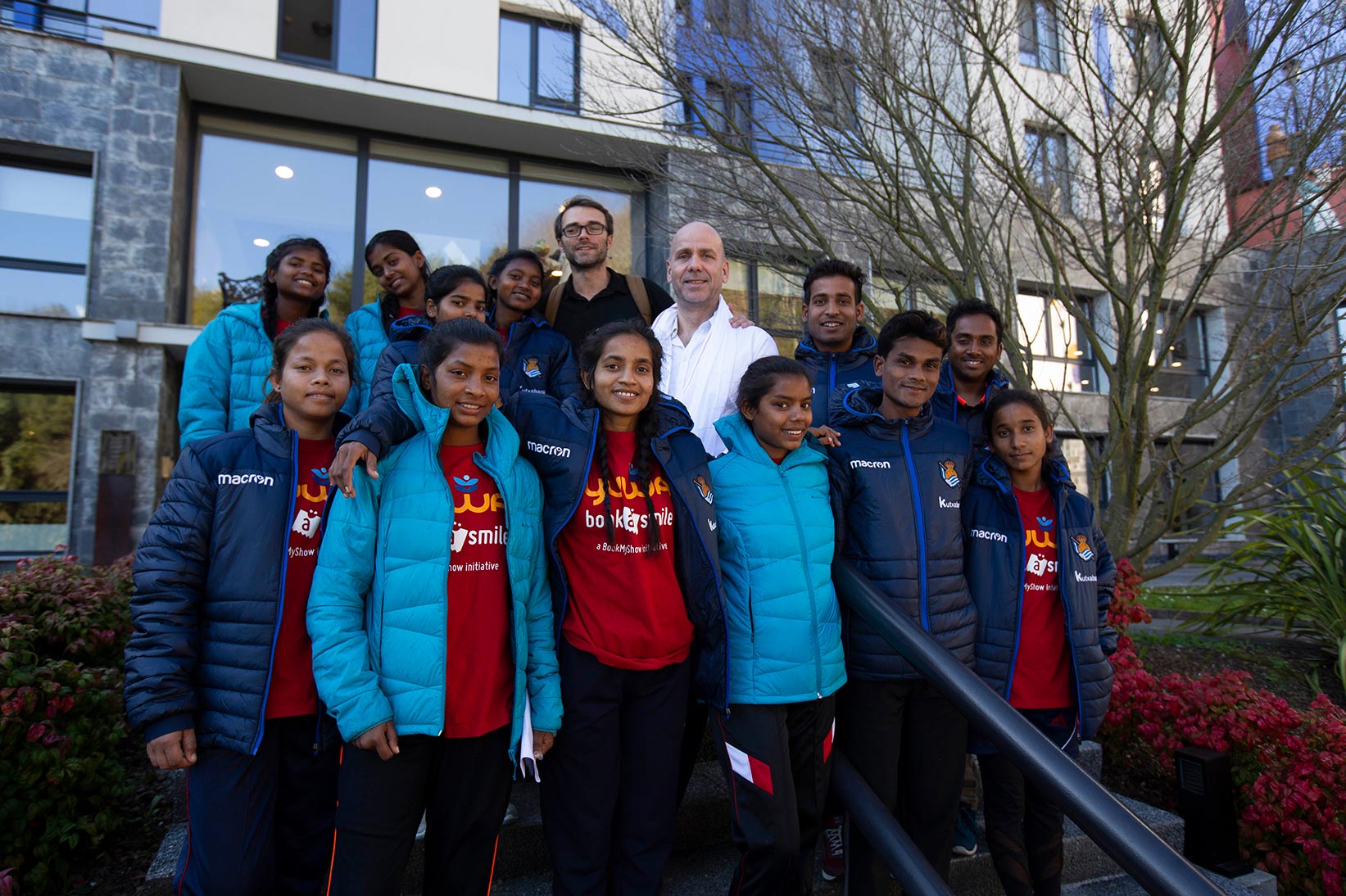 21 Feb

Yuwa School Founder Visits Blendhub Headquarters in Spain
Franz Gastler saw firsthand how his students' meals are made.
Last year, Blendhub worked with Yuwa School, the American NGO Feed a Billion and the Indian meal shake brand Happy Ratio to provide 450 Yuwa student girls with a complete meal a day.
The project was an example of how people and organizations that share the same values can make a tremendous impact on the lives of people.
Even more, it was a successful case of how localizing production near the final consumers, using a local recipe and optimizing the sourcing of ingredients, can result in cost-effective and safe products delivered in record time.
We want to take you on the same tour we took Franz at our headquarters in Murcia, so you too can see firsthand our processes and understand what goes into making any food powder available to more people in more places.
Portable Powder Blending Unit
A tour at Blendhub starts with the portable powder blending unit.
Our PPB fits a 40-foot container and, unlike static plants, can easily be deployed to any geographical location in less than six months.
In India, we have the exact same machine producing the meals next to our final consumers at Yuwa.
It ensures the production of high quality and safe meals in any chosen place, reducing logistics costs and the carbon footprint.
Recipe Match
What makes a food product unique comes down to how its recipe fits the needs of consumers.
The Yuwa girls needed a meal that required little to no resources to prepare, however, it also had to be delicious and nutritious. The meal had to be stored and prepared without a refrigerator or cooktop. Also, they had to be served fast, right after the 450 girls finished their football practice.
By matching this recipe, the girls are receiving the macronutrients, minerals and vitamins they lacked in a fast and convenient way, as they don't need anything more than clean water and a shaker to prepare it right on the football field.
Searching for the Right Ingredients
Quality ingredients are the root of good food; sourcing them from the right places is key.
Our Data Analytics team researches for the most competitive ingredients best suited for each recipe. We source ingredients that are not only high in quality but are also in the best possible location for the region in which they will be used.
Our joint collaboration with Yuwa School, Feed a Billion and Happy Ratio is the perfect example of how we can share value and shorten the end-to-end supply chain to produce food and nutrition faster, safer and cheaper than ever before.
Using the latest technology in sourcing, blending and quality control, and extensive experience in powder-based food and nutrition, Blendhub can provide the same results achieved with Yuwa to any food brand in the world.