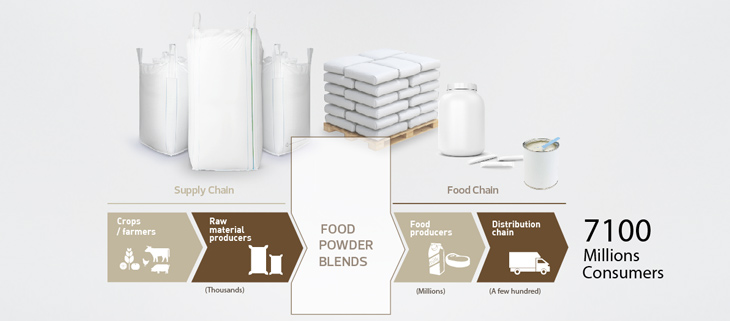 30 Apr

Agri-food Value Chain: Better Alignment, Less Risk

In the book The Risk-Driven. Four Questions That Will Define Your Company Business Model, Karan Girotra and Serguei Netessine argue that when designing business models, key choices can either increase or reduce one of the characteristic types of risks: The incentive-alignment risk. It refers to the clash between the incentives imposed to a company's business model and the rest of the interests in the value chain where it operates. Now, take the case of the agri-food value chain and a specific and very important element: Formulation knowledge. And a simple question: Is the classical IP protection system benefiting the interests of the different satakeholders involved in the value chain?

For a long period of time, formulation knowledge has been protected by the black-box system, meaning that the majority of food producers, SMEs and local manufacturers, have lack of access to technology to innovate and to have a better control of the individual supply chain of their ingredients. Neither raw materials producers have valuable information on the next links in the value chain. And this has also important implications on final consumers when 800 million of 7.1 billion people have no access to basic food.

As a company specialized in the formulation and blending of food powder products, which creates solutions, services, and equipment for the agri-food industry, Blendhub wants to lead a change in the agri-food value chain that enables access to basic food stuffs to be more just and safer, reaching more people in more places. We have found that opening formulation knowledge is one of the keys to achieve it by benefiting the interests of key stakeholders in the agri-food value chain creating a scenario of new opportunities and less risk to produce more affordable and better food products.

Food powder blends are still operated today the same way as fifty years ago. A few big branded corporations with big central food powder processing plants and internal formulation experts produce about 10% of the worlds´ food. Thousands and thousands of SMEs and local and regional producers supported by many smaller technology providers produce around 90% of the worlds´ food. And most of these food products are being supplied as "black box" formulations.

These business models are not sustainable and they are dying fast. That's why in 1997 I decided to do something about it. It was the starting point of a new and unique toolbox to support the world´s food powder blending industry and to make sure that supply chain and food chain can merge in a sustainable way.

Substituting the black-box by transparency through open formulation will allow individual formulators and new companies have the possibility to create open-model food products with complete track and trace as alternatives to historic IP-protected black box formulations.

Furthermore, Blendhub can help them to get these products produced and launched into the market in a very short period of time thanks to a portable powder blending factory, offering consumers not only new choices, but also a complete understanding of the entire value chain and on what they buy and eat.