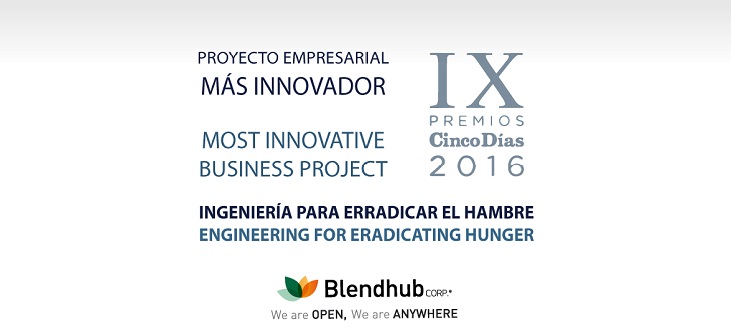 31 Oct

Blendhub, Cinco Días Entrepreneurial Innovation Prize

The jury has recognized the progress in fighting hunger made thanks the portable and modular factory designed by the company for blending food ingredients.

The financial newspaper Cinco Días has announced the winners of its Entrepreneurial Innovation Awards. Blendhub was one of the awarded companies in the 2016 edition, along with Emite Ingeniería and NH Hotel Group.

With this prize, Cinco Días recognizes "disruptive initiatives in the fields of new technologies, innovation linked to the university, and social responsibility". Blendhub, based in Murcia and with offices in India, Mexico and the United Arab Emirates, has been awarded in the category of New Technologies thanks to its portable and modular factory for blending powdered food ingredients, which allows them to produce and market food ingredients anywhere in the world and the value chain, in order to contribute to a more just and safer access to food and, thus, to reduce hunger worldwide.

The portable factory by Blendhub, "Portable Powder Blending", can be installed anywhere in the world or the value chain in less than six months to produce for any company guaranteeing a minimum risk and significant reductions in its production costs. Internationally patented, it also helps support local food production, using local raw materials and workforce, and creating shared value with any stakeholder who operates in the agri-food value chain in regional markets.

Moreover, the jury of the Cinco Días Prize has awarded the prize to the Most Innovative Entrepreneurial Action Linked to the University to Emite Ingeniería, a spin-off of the Polytechnic University of Cartagena, in Murcia, for the development of some multiple entries into and exits, and fourth-generation wireless analyzers used in mobile devices. Likewise, they have recognized NH Hoteles as the best project of Corporate Social Responsibility for a program in which they offer rooms and assistance to families of children with serious illnesses and limited resources when they need to stay outside their place of residence.

For more information visit  Cinco Días.