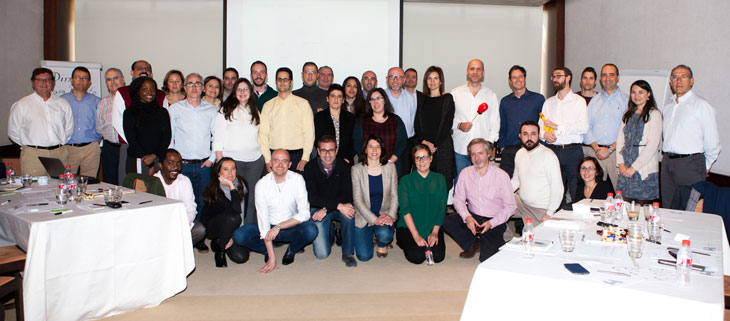 23 Jan

Blendhub hosts a workshop on 'The Business Model Canvas'

Jasper Bouwsma, international consultant and expert in The Business Model Canvas, has visited Blendhub to give a workshop about this tool.

The Business Model Canvas was developed in 2004 by the expert in strategy and innovation Alexander Osterwalder and has gained popularity in the business environment as a replacement of the traditional business plan. The Canvas method is a strategic tool that allows companies to gain flexibility and adapt to changing market conditions. It is divided into nine basic modules, which arise on a single sheet or canvas and reflect the logic to be followed by any company for getting revenue. These nine modules are: Value proposition, distribution channels, customer relationships, revenue streams, key resources, key activities, key partnerships and cost structure, and covering the main areas of business for a company, which can be summarized in: Customers, offer, infrastructure, and economic viability.

Alexander Osterwalder unveiled The Business Model Canvas method through the book Business Model Generation, which he co-wrote and which involved 470 contributors. Among them was Jasper Bouwsma who is advising a Spanish company for the first time, since his previous collaborations in Spain had been focused on working with local teams of multinational companies.

On this occasion, Bouwsma visits Murcia, Spain, to familiarize various members of Blendhub's team with The Business Model Canvas. The company, which developed the world's first portable factory for blending food powders and developed a new business model around its centers of excellence, has been working on issues related to the implementation of disruptive innovation in its sector and the development of new value propositions for the food industry.

In relation to the objective of this training, Bouwsma says: "Business model has become a buzzword, everyone used it with different meanings. This workshop will introduce a common language in Blendhub so that different team members can contribute,using the same terminology, with the company's business model, which is trying to bring a challenge to its sector".