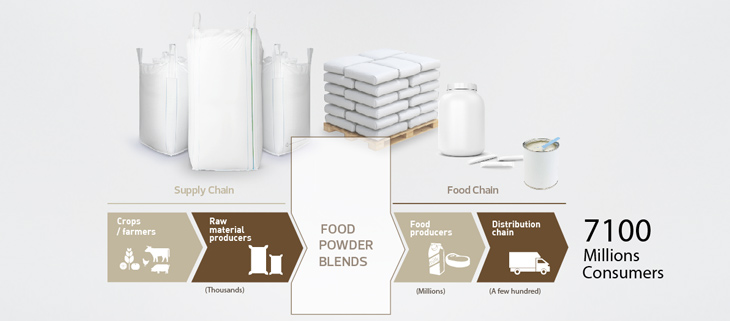 29 Mar

Business Model Innovation

Last week I was a guest speaker at the University of Barcelona, Spain. I spoke about innovation for food science and technology students. I explained them Premium Blendhub's innovation in its business model and I would like to share my presentation (link here) since I think is a great example of a company which overcame a challenge and completely transformed itself while impacting a whole industry, the food powder sector, and also because I frequently write about open innovation on this blog and this approach resulted as a key factor for our change.

Our continuous internal change is part of our conviction that there was something wrong in the food powder value chain. It took us years to figure out the problem, which was solved due to the result of deep thinking as well as extensive experience in this sector where I developed my entire career.

I would like to start off by stating that at a young age, I started working in the belly of the food industry: a restaurant's kitchen. Then, I got into food production through CP Kelco, where I worked for a period of time until I founded my own company in 1997, Premium Ingredients, dedicated to the design and marketing of functional ingredients, and, in 2011, Blendhub, which commercializes the first portable factory for food powder blending in the world and is the result of an internal innovation in Premium Ingredients. Finally, at the end of 2012 came Allfoodexperts, an open innovation platform for the food industry.

The Food Powder industry is a very opaque sector with a link in the supply chain where nobody really knows what is going on nor who is who. Food producers buy food blends through a system we call the Black Box, which disables them to know exactly what is inside. They do not know the ingredients that are used in those blends and as a consequence, are unable to optimize their products or costs. All that they know is if the product works or not. On the other side of the picture, raw food material producers do not receive feedback from the market about their products because food producers, mostly small and medium companies, buy the blends directly.

Our business had been like that for a long time and now we are questioning the status quo. The journey was not easy. It took us some years to even describe the problem. How can we make food producers cease the purchasing of blends? I very much wanted to build a sustainable innovation-based business model with transparency to make safe, innovative, and better quality products.

Firstly, we started opening ourselves up through open innovation. We even developed our own model for the agrifood industry through Allfoodexperts, a success fee based model. It emerged after realizing that we had a powerful toolbox in Premium Ingredients, with many valuable ideas that were needed for external help to come into the market.

It was at that time that I started using the toolbox concept that evolved in the excellence centers and services that we have in Premium Blendhub. I also went to the Silicon Valley twice to look for help and to better understand how companies are able to disrupt an industry.

I hired Silicon Valley talent to come to Spain and work with the top 24 people working inside and outside our organization, like our closest collaborators. During those three months, I saw how we were able to develop SMART Powder Blends, a disruptive innovative business model for our industry and the basis for a new food powder value chain.

SMART Powder blends are the whole product for the food powders industry, meaning transparency and flexibility, and we commercialize it through six centers of excellence, which were the results of our toolbox and experience and knowledge accumulated.
Through SMART Powder Blends, we provide our customers with two options, "Our Formula", with which we are transparent with prices, and the know-how used in our products, even licensing IP, and "Your Formula", where we offer our customers the possibility of improving their own products, both optimizing costs or functionalities in a transparent way and without hiding costs, profit margins or the ingredients used.

Our change does not stop there as other changes keep coming! We are now changing our organization. We have a new organizational chart, we are building a new stakeholder map, and we want more companies to join us to align interests in the food powder value chain in building relations based on trust to create a more sustainable and better-aligned food powder supply chain, making information flow between all sources and connecting food producers and raw materials producers.

Let's kill the black box!