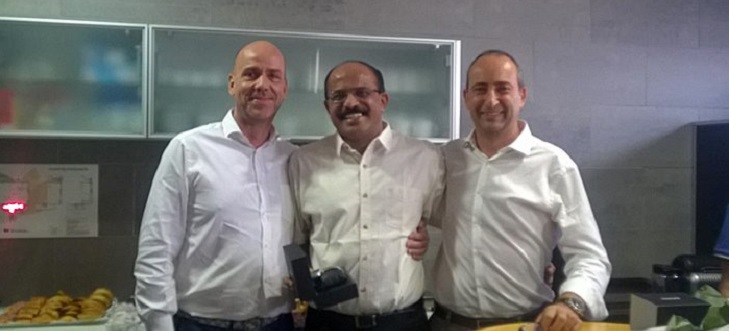 10 Oct

Congratulations Ravi Menon. You have shown the way for taking food production from static to portable and create local value in India

Ravi Menon, Director of Blendhub Corp's company Premium Ingredients Food Services India, started employment with us 1.10.2011 and from a greenfield project without even the building constructed. Less than a year after, in September 2012, he started the operation of the world' first portable PPB food factory in a remote area, around 1,5 hours drive north of Chennai, India. Ravi Menon, an army professional who got his first "outside army" job in the health care sector, was found through our personal network and trusted to lead our brand new business model bringing "Food Powder Blends Anywhere", iniating a way for taking food production from static to portable.

During these four years, Ravi has been able to experience, together with his team, the simplicity of operating a PPB food factory having absolutely no previous experience in running such an installation. The portable manufacturing model located to produce in India, using local Indian raw materials, operated by local Indian people and delivering high quality food powder blends for export markets has been an enormous success.

Changing our model of production, going from static to portable, we have optimized the supply chain for our customers, reduced lead times, reduced financial costs, reduced CO2 footprint and, most important, reduced the price of the formulations, providing industrial food producers, and thereby final consumers, high quality and safe food products "Made in India" to the world.

Our great Indian team, with Kannan as our Factory Manager and integrated by Reddy in Administration, Purshothamman in Maintainence, Kumar, Suman, Ambeth, Israil, Supriya and Polamma, have not only been able to capitalize the PPB food factory in Sri City SEZ area, but actually been able to generate enough positive cash flow themselves to finance a second PPB which will be installed and in operation at the beginning of 2017 to supply safer, better and cheaper food products to the domestic Indian market.

The B2B2C "Food Powder Blends Anywhere" value proposition has allowed Blendhub to support our own localized production strategy, adding value to locally produce powder raw materials and blended formulations in close collaboration with local Indian raw material producers. The coming year, our second "Portable Powder Blending" – PPB food factory- will be ready to support Indian and international food industry stakeholders reaching Indian consumers with food formulations designed by a number of different Indian and international formulators knowing the Indian taste, texture and nutritional wishes in a long range of personalized blended food products.

Five years ago, Blendhub selected India as the initial platform for the global launch of food formulations produced and delivered on a fast replicable and localized set up Anywhere, being an integrated part of our vision to make food available more just and safer reaching more people in more places, and leading a change in food production going from static to portable.

India has proven to be a great host and I personally want to thank our entire team and external stakeholders for their enormous commitment and passion shown during these 4 intense years, spearheading the launch of a business model that will change the world of food formulations for better and offer consumers a lot of new experiences waiting ahead.

Photo: With Ravi Menon, Director of Premium Ingredients Food Services India, and Raúl Fernández, VP Corporate Organization at Blendhub.