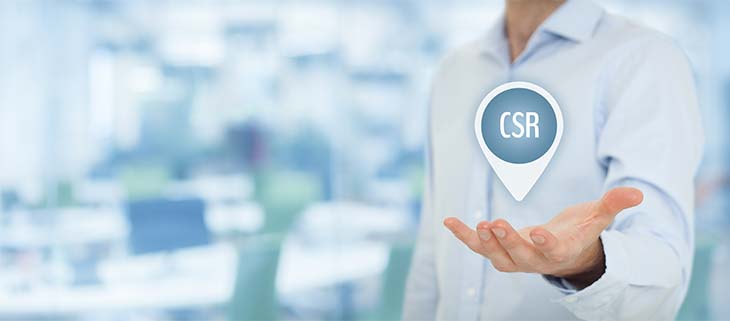 24 Dec

Corporate Social Responsibility: Much More Than Just a Tick off on the Checklist

Corporations with higher standards of transparency, purpose, and accountability are becoming more common, especially since the financial crisis, and so is the increasing number of companies who are finding ways to grow a business while considering social good. For those companies, corporate social responsibility (CSR) is much more than just a tick off on the checklist. The social good is perfectly integrated in their activity or strategy, being one of the aims of the organization, like in the following approaches:

B companies. More than 1,000 companies in 33 countries have been certified as B corporations by the nonprofit B Lab for their social and environmental performance, accountability, and transparency. These companies are leading a movement to redefine success in business not only in profits, but also on a higher impact in the world, improving the quality of life of their communities or performance regarding the environment, as highlighted on the B Lab site. One of the founders, Bart Houlahan, discusses how companies can make a bigger impact by simultaneously creating social value and value for their shareholders in the following TEDx talk. Among the benefits, he attributes to those businesses which meet the social standards of a B corporation is the reduction of financial risk, the generation of a greater consumer loyalty and the retaining of better talent, since knowledge workers are increasingly seeking for a meaning in their careers. Additionally, he states that when a company has a meaningful mission, it can last over time, allowing the company to survive changes such as new money coming in, or even new ownerships.

The B Team initiative. According to their own definition, The B Team is "a not-for-profit initiative formed by a global group of leaders to create a future where the purpose of business is to be a driving force for social, environmental and economic benefit". This project includes such outstanding personalities as the ambitious entrepreneur and founder of Virgin, Richard Brandson; the President and Chief Executive Officer of the United Nations Foundation, Kathy Calvin, or Arianna Huffington, cofounder of The Huffington Post. "Global-business leaders need to come together to advance the wellbeing of people and the planet", they say, and they propose other leaders to join a movement to also redefine success in business and overcome the humanity current challenges from business which perform better, in which values such as ethics and transparency matters, and that create profit for people and the planet.

Creating shared value. This approach proposes businesses to look at environmental, social and economic challenges like opportunities not only to make the world a better place but to also create profit, establishing deep links between business strategies and corporate social responsibility. The concept was first introduced in a Harvard Business Review article and subsequently developed by Michael E. Porter, head of the Institute for Strategy and Competitiveness at Harvard Business School, and Mark R. Kramer, co-founder of FSG and, as highlighted in the following video, involves a different management approach, which enhances the competitiveness of the companies while simultaneously creating better conditions for the communities in which they operate. Companies such as GE, Google, IBM, Intel, Nestlé or Unilever have already making important efforts to create shared value, as referenced in an interesting article by Harvard Business Review, linked here.