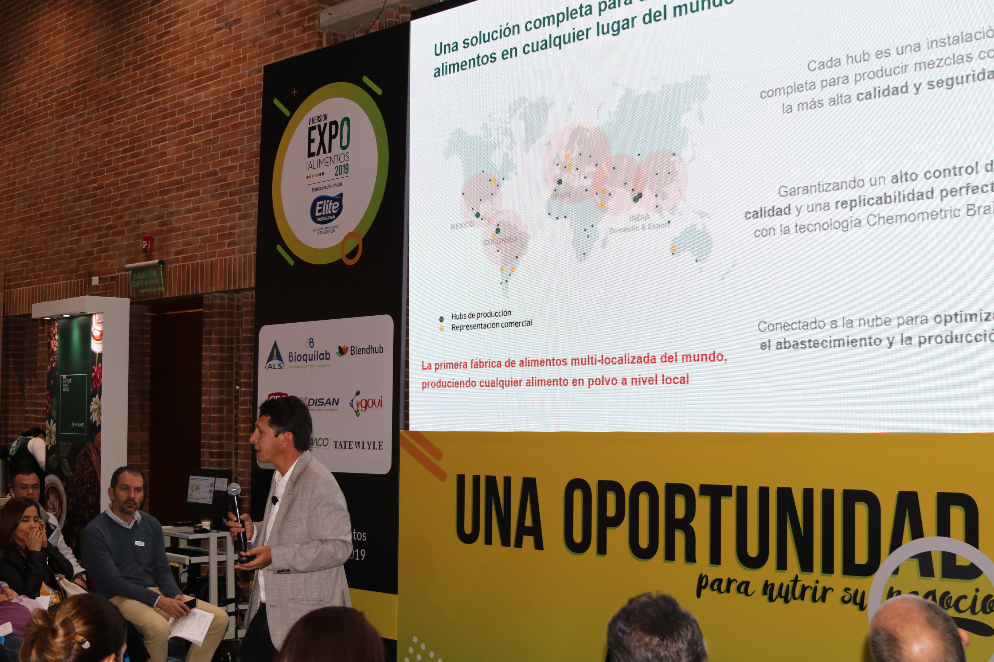 08 Nov

The 3 Top Food Industry Trends in Colombia
The Top 3 Food Industry Trends in Colombia
We spoke with Harvey Eduardo Castañeda, General Director of Blendhub Colombia, shortly after the IAlimentos Expo to discuss the latest consumer trends in Colombia. In this article, Harvey explained the current food industry trends in Colombia, what can be expected in the coming years and what sets Blendhub apart from the rest.
About 

Blendhub Colombia

 and Expo 

IAlimentos

  

 
Blendhub's presence in Colombia began in 2016 and in 2018 our powdered food production hub was established in Cundinamarca. Our hub in Colombia is dedicated to export and serve our clients throughout Latin America. We currently export to Ecuador, Chile and Argentina and have the potential to export to Brazil, as both countries have an open trade agreement for most food products.
This year was Blendhub's second year of participation in Expo IAlimentos which took place in Bogotá, Colombia, on September 5 and 6 of 2019. The exhibition was organized by IAlimentos Magazine, and brought together nearly 100 producers and suppliers specialized in food and beverages.
At the exhibition, the General Director of Blendhub Colombia, Harvey Eduardo Castañeda, gave a talk on how to produce powdered food without CAPEX.
Food Industry Trends in Colombia
At Expo IAlimentos, our Latin American team interacted with professionals from the food and beverage industry and was able to share an accurate view of consumer trends and market challenges in Colombia. In this blog post, we will discuss the key points of the event.
Processed Dairy Cheese
As Harvey explained, Blendhub Colombia is seeing a greater demand in the processed cheese sector. In 2018, the size of the Colombian dairy sector was COL$ 1,153.8 billion (US$390.3 million) and it is estimated that the CAGR will grow by 4.8% from 2018 to 2023.
According to Global Data, low food price inflation has resulted in an increase in net trade for Colombian consumers, who are beginning to opt for higher quality products in the dairy sector. Increased demand creates opportunities to experiment with innovative flavours and ingredients, as well as formats. In both Colombia and Latin America, there is also a growing demand for convenient cheese products – ones with a long shelf life and in small portions.
However, producers find it difficult to access adequate infrastructure for milk production, storage, processing and marketing. The lack of infrastructure compromises the quality and competition of domestic versus imported dairy products. From Blendhub we have alternatives to meet these new needs, powdered ingredients, and more efficient and economical forms of processing with more competitive formulas.
Dairy Cheese Alternatives
Despite the growing demand for processed cheese, milk is losing its share throughout Latin America and the plant-based food industry is growing even faster.
This can be attributed to lifestyle changes and a growing preference for plant-based alternatives; therefore, Colombia is also seeing a growing demand for plant-based cheeses.
Needless to say, a common challenge for food producers is to develop recipes that use vegetable ingredients without compromising taste, texture or price for the end consumer. At Blendhub we are world and regional leaders with a portfolio developed in vegan products (almonds, oats, coconuts, etc.) in different applications (beverages, yogurts, cheeses, etc.).
Supplements and Personalized Nutrition
The vitamins, minerals and supplements sector has traditionally been one of the fastest-growing industries in the world; however, in recent years growth has slowed the maturity of the industry. In Europe and the USA, the market is saturated as there are many dietary supplement products adapted to demographic characteristics, such as gender or age.
However, the same is not true for emerging markets such as Colombia, where there is still strong demand and room for growth.
We are seeing that the greatest opportunities lie in a greater degree of personalized nutrition and products aimed at a population with specific health needs or risk factors. For example, personalized nutrition for people with obesity, a sedentary lifestyle, a history of smoking, and so on.
Common barriers for producers include the high costs of genetic testing, the relative lack of credibility of personalized nutrition by the general public and, in particular, production technology. To avoid these challenges, considerable investment is needed in both research and development and in equipment and technology.
Blendhub's Capacities in Colombia
Up to 80% of the world's food and beverage industry is made up of small and medium-sized enterprises, and Colombia is no exception.
Small food companies have the advantage of being close to consumers and understanding what they really want locally – yet they don't have the capital investment to quickly meet consumer demands, especially those mentioned above.
When you work with Blendhub Colombia, you work with a pay-per-use system for the production of powdered food. From bulk production for industrial customers to custom packaging for the end consumer; whether it's high-performance, low-cost mozzarella cheese blending cores or complete nutritional powder supplements, Blendhub can help you with every aspect of your business from formulating and sourcing raw materials to the product ready to market.
Blendhub Colombia, as well as all other hubs in Mexico, India and Spain, is FSSC 22000 certified and uses patented blending technology and cloud-centric quality control.
Milk or vegetable cheese and personalized nutrition require companies to have a network of food professionals to research and develop innovative recipes. At Blendhub, our community consists of a network of food designers, food producers and ingredient producers who are dedicated to creating the best formula for you and your consumers.
Do you want to grow in the Colombian market? Contact Harvey Eduardo Castañeda and he will help you with the process. 
Contact Harvey Eduardo Castañeda
| | |
| --- | --- |
| Tel: | (+571) 8 69 84 60 / 8439 / 8440 |
| | |
| Email: | harvey.castaneda@blendhubnet.com |
| | |
Sources
Canadean, Dietary Supplements in an Age of Personalized Nutrition
Global Data, Colombia Dairy & Soy Food
Global Data, Opportunities in the Latin American Dairy & Soy Food Sector