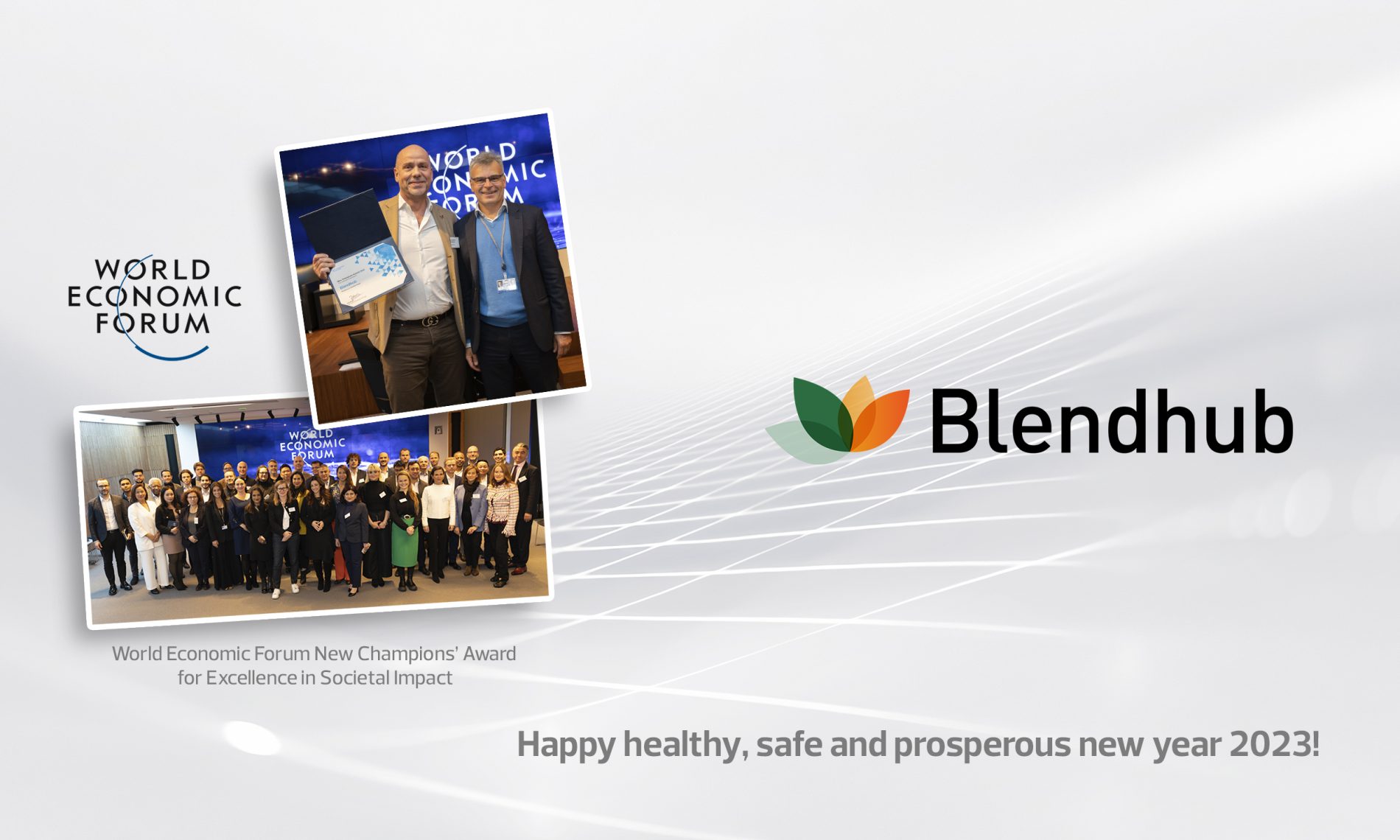 20 Dec
Meeting new and ambitious goals in 2023
For a company in continuous evolution and improvement like Blendhub, at the end of the year it is mandatory to look back over the past months: have we achieved the goals we set for 2022?
Let's start at the end. Just a few days ago, Blendhub received the annual award for Excellence in Social Impact from the World Economic Forum's New Champions community. A great end to the year!
This is an award for perseverance, for fighting for what you believe in, despite difficulties and misunderstanding. Because it recognizes that our multi-localization model and platform collaboration are key to continue creating value for the food industry and, ultimately, for society.
It is also a very significant award because it recognizes the importance of SMEs in global economic development. A recent World Economic Forum report on the subject warns that 67% of SMEs are attempting to cope with growth and are struggling to survive. If we take into account that SMEs are responsible for 80% of food production, this becomes even more significant.
This is precisely the challenge that inspired our collaborative platform business model, which we have definitively consolidated in 2022. What seemed so far away in 2011, when we reoriented our business model towards multi-localization and service, is today a successful reality.
Multi-localization and Food-as-a-Service to create shared value
We have built a platform for professionals, companies and organizations sharing our purpose and values and willing to create shared value and generate a sustainable impact on the global food system.
Our suppliers, freelance formulators and partners are directly involved in our projects in close collaboration with our local hubs to develop new, more efficient and sustainable food solutions.
This enables us to offer Food-as-a-Service anywhere in the world to any food company, from idea to launch in less than 90 days.
In the last year, SMEs and large multinational food companies have chosen Blendhub to innovate in plant-based products and other personalized and healthy nutrition trends. In Latin America, for example, we have launched a new range of instant beverages made from vegan ingredients and we are revolutionizing the market with a new high-protein bread.
In India, we have launched our most ambitious project for the revaluation of the Ragi supply chain with the objective of creating nutrition and business around a local raw material that is highly undervalued but has great potential. The project involves farmers supported by eKutir, humanitarian organizations led by Partnerships for Change, and has been implemented thanks to Blendhub's production capacity and expertise.
This project encompasses everything that Blendhub is all about: localization of food production, empowerment of local farmers and SMEs, promotion of local development, platform collaboration, solidarity and creation of shared value for all parties.
Middle East, our immediate project
In 2023, we will continue creating partnerships to strengthen our platform and to improve and expand our Food as a Service system in order to continue offering innovative, efficient and sustainable solutions anywhere in the world.
We are now working to deploy our platform in the Middle East, one of our key markets since our origins, with great growth potential.
The outlook for the future is therefore very optimistic. Thank you, once again, for continuing this path together, because everything we have achieved so far has been thanks to a strategy of shared value and because of your trust.
I wish you all health, happiness and success in the new year.