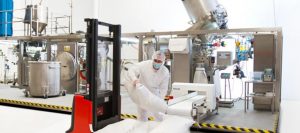 06 Oct

Modular and Portable Food Production: Produce Local – Offer Global

Arla Foods has recently announced 2 new joint ventures in Nigeria and Senegal with the objective of adding value through selling their dairy powders in Africa. They have announced a strategy which includes the installation of a mobile packaging facility in the corresponding local market.

Arla Foods will sell what they call "nutritional milk powder blends" developed and produced in Scandinavia, but filled locally into small sachets in cooperation with their local partners.

This is just another example of what we at Blendhub believe will be the future of operating in the agri-food value chain:
Mobile production integrating global company vision and local implementation.
During the last fifty years, food powder raw materials and blended products have been transported around the globe to feed an ever-growing population. At Blendhub we imagine a food system that operates in the opposite way – one where production can be quickly moved where it is needed and makes more economical sense.
Not just by moving the packaging line but rather moving the entire production process to support local companies, combining with the use of highest amount of local raw materials in the formulation and managed by local people in Africa or other new economies or emerging markets creating true partnerships and not just distributors.
At Blendhub we have developed and patented the world's first fully integrated modular and portable factory for the handling, blending and packaging of food powder formulations – the Portable Powder Blending process plant (PPB).
A complete production facility making it possible to launch new formulations and food products Anywhere in the world or in the value chain supported by the unique Blendhub full-service platform, which concentrate the know-how accumulated by our group of companies working in the food powder blends category for two decades.
The standard PPB will be delivered in a 40″ container and can be fully operational in less than six months from the agreement, producing food powder blends with liquid injection and packed into anything from small sachets to any consumer packaging size or industrial big bags with 800/1000 kg each, assuring batch control and a complete traceability from the raw material to final food product.
Offering food powder blends "Anywhere", Blendhub can help African or any other local company in other parts of the world, to launch food products with highest amount of local raw materials, operated locally and with local manpower – and launching local branded food products with highest food safety, lowest price per kilo, and without any operational or financial risk.
Blendhub also offers any company an open and transparent business plan helping them to understand the complete economy behind the launch of the new food product or to improve an already existing product faster, safer and cheaper compared to the actual set-up.
Blendhub wants to lead a change in the agrifood industry enabling a more just and safer access to basic foodstuffs to more people in more places.