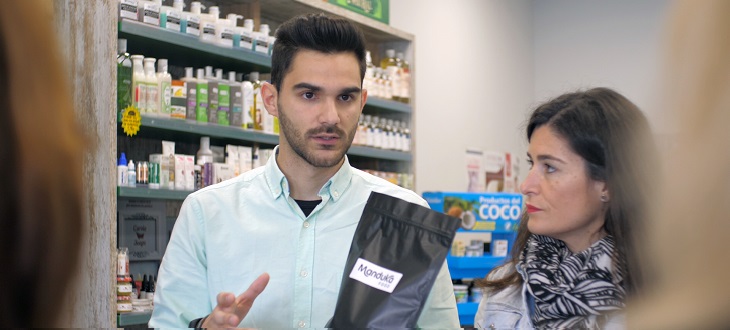 23 Mar

Offering our experience to food startups. From incubation to product launch

As 80% of global food supply is produced by SMEs, I believe that food industry value propositions must be about creating value together. We can only make a true impact by collaboration. I call it "1+1>2".

Following this path, five years ago we started allfoodexperts and, less than a year ago, we launched the #CloudBlending collaboration model.  Since then, we have experienced an enormous growth in the understanding of the power of ecosystems. We have received an incredible feedback and many collaboration opportunities, and real joint value creation projects are coming.  We see the interest of many agrifood stakeholders while great food startups are joining the movement.

Today, I would like to share with you the inspiring story of Fran Molina and his project Manduka Food.

I met Fran through my local community few months ago. A friend asked me if I could help his nephew who, for a long time, had been playing around with the idea of launching a food product.

Fran had no food industry experience. No technical knowledge at all. But he had detected a market need and he had the passion to create his own brand.

I really wanted to help him succeed.

Fran has worked with fitness and sports people for years as a personal coach. Therefore, he detected the lack of single serve food product offerings, that provided efficient energy after hard training. And he decided to create his own breakfast powder. Not only for himself and the community around him, but also thinking in a more expansive way, in any person who actually wished to start the day with a healthy meal or had little time to shop the different ingredients and prepare them.

After a conversation with Fran, it became clear to me that Blendhub could host the process to release his product. Even more, the project was aligned with our concept of "Making nutritional food products available to more people in more places". A line where different food startups are working today.

As many young entrepreneurs who want to launch a startup, Fran had already talked to countless institutions and other stakeholders looking for advice and funding. Nearly out of hope he reached out to us. He understood right away that we could both help him envision the business model needed to launch his food powder product and add more than two decades of experience in the agrifood sector to it.

We decided to give Fran complete access to our organization. We wanted to experience how fast he could go from idea to product and final consumer.

Our Design and Validation team supported by our community of freelance food formulation experts helped him to improve his original idea, making his recipe ready for production. And they also helped him finding the most competitive raw materials, resulting in a product rich in protein and oat, with no sugar added. Our Quality team supported him with all the paperwork regarding sanitary legislation and norms. Blendhub's Business Development and Marketing, and Data and Innovation teams were engaged in the project. They supported him to create his business plan and finding a proper packaging for the product.

A collaborative work based on the Blendhub's spirit of confidentiality, transparency, value alignment and collaboration, which are also the founding principles of the global #CloudBlending community.
Using our hubs to produce for food startups
Blendhub is today about to start the first production of Manduka Food batches. And Fran's dream of seeing the first delivery of his food startup products to consumers is about to become real.
All in a record time that he had not dreamt about a few months ago!!! And based on a simple pay-per-use system. He only pays when producing on any of the #CloudBlending hubs.
At Blendhub we are proud to have helped Fran and Manduka Food to become a reality. And we wish him most luck going forward.
Blendhub is today supporting BIG food brands, SMEs and food startups. We offer them worldwide localized blending, packaging and quality control using our #CloudBlending hubs.
Close to 80% of the world's food is today produced by SMEs. Most of them with very reduced access to technology and global markets. Therefore, we believe that nobody can ensure access to quality food and nutrition alone, meaning the only way forward is working together. And do it in a transparent collaborative model with a clear definition of objectives and shared value.
Join the #CloudBlending movement