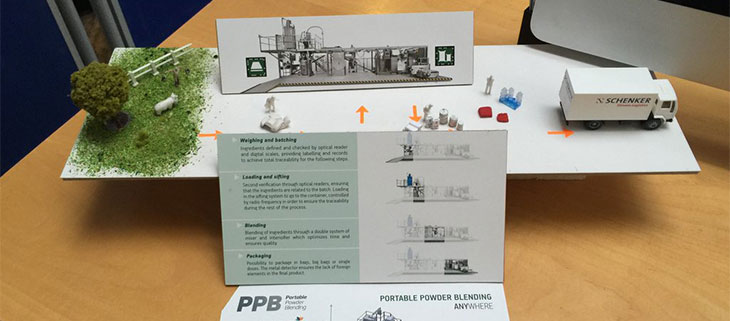 26 Nov

"PPB is an eye-opener but Blendhub's global offering is the most interesting & complete option for food producers"

Kristian Bluff – Blendhub's Professional Networker

Kristian Bluff, working in Life Sciences for more than ten years and active part of Blendhub's Professional Network, was presenting our business model Food Powder Blends Anywhere at Food-IN-2-Health Agora. He did it with a visual and at a scale prototype of the food value chain (see image) and the PPB's – Portable Powder Blending – position in it to
optimize food supply. He considers this business model a game-changer and challenger for a very traditional industry. Here he shares his impressions about Blendhub, its model and Professional Network.
How did you get in contact with Blendhub?
I got in touch through a relative who introduced me to Henrik [founder and CEO of Blendhub] in Portugal. He told me about Blendhub's work and its concept Food Powder Blends Anywhere and I found it very appealing and innovative.
Why did you decide to become a Blendhub networker?
I've worked in Life Sciences for ten years, and two years ago I founded my own consulting firm. I'm also passionate about innovation and game-changing business models. Being a Blendhub networker generates many new opportunities for me.
What are the main benefits of Blendhub's Professional Network to you?
For me the freedom to move and network in different agri-food circles -without the limitations of working as a full-time employee- is very important. I also have the freedom to test Blendhub's business model in SMEs, engage with other experts and generate potential leads being an opportunity broker. The network gives me visibility and the support of innovation and manufacturing to create great opportunities too.
Blendhub's Professional Network can open doors to sectors of the industry that I know and others that I don't know.
Furthermore, the company is doing something very positive bringing food to parts of the world where it is needed and offering transparency. Nowadays, consumers want to know where food comes from; they want to be informed. There is integrity, safety and ethics in Blendhub and I'm very much aligned with it.
You have been in the Food-IN-2-Health Agora presenting Food Powder Blends Anywhere. Could you tell us your impressions about the event?
It's been initiated with the participation of several Danish universities and private organizations and the attendance of 500 to 600 visitors from research groups associated with the University of Copenhagen and large companies, such as Arla, and start-ups showing their products for the first time. In this ecosystem many products entering into the market were presented, especially in functional foods and Nutraceuticals such as an ice-cream tested in patients recovering from an operation, which is easy to digest and protein-rich to help them to recover their strength.
And the reactions about Food Powder Blends Anywhere?
There were a lot of inquiries about the model and its convertibility in business. The Portable Powder Blending factory acts as an eye-opener but the global offering of Blendhub proved to be really different because it is the most interesting and complete option for food producers, and close to raw materials. It allows to better understand the whole value chain and optimize it through the PPB − supported by the Blendhub's full-service platform and Blendhub's Professional Network − to assist manufacturers with innovation on an attainable scale.
Innovation can be very scary, but with Blendhub's business model you can access the parts of the model you require. Starting at the beginning of the value chain through to distribution, so it's not just production.
You are located in northern Europe, what's the support that Blendhub's can offer to companies in your area?
We know that Danish ingredients companies represent about 15% of the world market for food and beverages. And this market is expected to grow 5% annually. Although this is a very mature and traditional market, as a Blendhub networker I have the task to spread our message out.