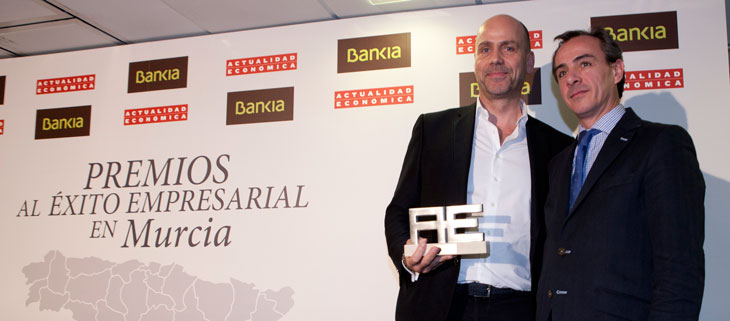 23 Feb

President and CEO of Blendhub collects the Most Innovative Company Award from 'Actualidad Económica'

Henrik Stamm Kristensen, president and CEO of Blendhub, received on behalf of Blendhub the Most Innovative Company in the Region of Murcia Award last Thursday, Feb. 19. This award is given out every two years by the magazine Actualidad Económica. The publication recognized the contribution made by the Spanish company through its modular factory "Portable Powder Blending" (PPB), which allows the production of food powder ingredients anywhere in the world, and to respond more efficiently to the demands and immediacy that the international markets require.

The president of Blendhub received the award from Ignacio Bofill, Advertising director of Actualidad Económica, during an event that was attended by a large group of representatives of institutions from the region of Murcia. Among them, Francisco Martinez Asensio, regional minister of Economy and Finances; Joaquín Moya-Angeler, first deputy mayor and representative of Institutional Relations of the city; José María González, secretary general of the Regional Ministry of Industry, Tourism, Enterprise and Innovation, and Soledad Diaz, vice president of the Regional Confederation of Business Organizations of Murcia, Croem.

Besides Blendhub, those awarded were: Juan Marín Bravo, manager of Campo de Lorca, as Best Entrepreneur; Antonio Muñoz, president of AMC Grupo, as Best Business Career; Abarca Shoes, Newcomer of the Year Award; Grupo Consum, Best Business Initiative; Inforeactiva, Best Public Initiative; Industria Jabonera Lina (Linasa), Best International Strategy, and Grupo Fuertes, which received the Job Creation Award.

The business awards of Actualidad Económica have a track record of twenty years and are delivered at a regional and national level.

PPB is the first mobile and modular plant developed in the world and is internationally patented, which allows the mixing of powdered ingredients in any place or country, requiring only an electrical connection for it. This enables the food businesses great flexibility when entering new markets, significantly reducing their risks of launching new businesses or projects, and optimizing their supply chains.

Blendhub, we are open, we are anywhere.