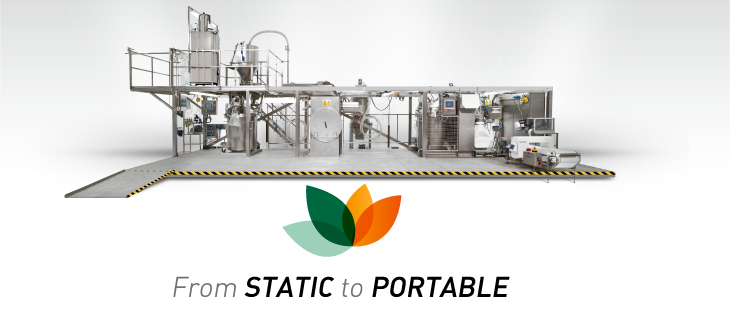 01 Feb

Take food production from Static to Portable

It is a fact that the global agriculture and food production industry employed more than one billion people in 2013 being equivalent to the third of the entire global workforce, and yet the industry is controlled and managed by a very small number of companies, having an enormous influence on food prices, diets and working conditions of people worldwide.

It is estimated that only around 10% of the food produced and consumed by people on the entire globe is produced by this small group of companies named "The Big 10" in Oxfam's 26.2.2013 report "Behind the Brands".

This means that approximately 90% of the food we consume is harvested, produced and sold by millions of SMEs; some of them with limited access to an in-depth raw material understanding and categorization, high tech food processing and quality equipment, international supply chain and distribution systems, high tech IT technology, and sustainable financial models. A situation which makes an important group of these SMEs completely dependent on their historic suppliers and supply chains which reduces their capability to save costs and to innovate and, as a consequence, makes it very difficult to acquire a more relevant position in a non-transparent agri-food value chain.

The above results in a vicious circle where most stakeholders being active in the global agri-food value chain are constantly focusing on a few hundred global food product brands delivered through top efficient distribution systems. This situation is giving SMEs a hard time creating sustainable value by improving their innovation and cost structures which is key for being able to expand their food product sales nationwide and to international markets, and this is finally resulting in consumers not being offered alternatives to the well known global brands.

We believe that it is possible to turn the equation around from what we call the actual 10/90 to a 90/10 scenario. Initiated by the magnifying effect of social media, today we see a global demand for increased transparency and accountability put on the "Big 10" by consumers, NGOs and society.

At Blendhub we decided years ago to start looking at the operational models and application of new IT based technologies used by these leading food industries, with the objective to turn this into generic solutions for agri-food SMEs. The result is a unique portable powder blending process plant (PPB) and a full-service platform including all the assets and knowledge to produce food powder blends for the industry or consumer products "Anywhere" and thereby giving SMEs a real opportunity to create sustainable value by reaching consumers with better, safer and cheaper food products worldwide.

Today Blendhub is offering any stakeholder in the agri-food industry this unique delivery platform which is giving the 90% SME food producers the same possibilities to create value as "the Big 10" – by converting the traditional delivery platforms from Static to Portable. Any stakeholders being independent food companies or freelance formulators, raw material producers, distribution chains or even specific consumer groups will now have the opportunity to use this novel portable delivery platform either alone or together with other stakeholders Anywhere in the world or in the value chain, locating it where it makes most economic sense and giving lowest price per kilo.

The full-service platform includes technologies like QA/QC using NIR online in the cloud, instant formulation validation on a standard PPB process plant, extended process plant warranty periods based on new formulation validation and risk assessment, liquid injection validation on powders, and access to plant design from production areas to warehouse and future modularity adaptions, all being available in a transparent offer from the moment an interested stakeholder gets in contact with us.

What does Portable food production mean?
Many mayor food companies have been closing state-of-the-art (read = static) production facilities or have been moving them to other locations to optimize raw material supply, logistic cost, lead times, taxes or simply to pursue new customer opportunities where they have been unable to compete from their actual set-up. Start-ups are forced to host the launches of their new products in the factories of existing food producers under contract manufacturing agreements which, of course, again are mainly limited to the western world where spare capacity is abundant.

Workforce is no longer static either and flexi-workers and freelancers named new digital nomads are emerging. In education, online platforms are substituting regular static teaching and the sharing economy is proving that flexibility in the supply of servicesn is taking over the static offers from before. Just take Uber creating novel and flexible ways of transporting people and things and the new flexible ways of room and house rentals introduced by Airbnb.

Likewise, Blendhub can today offer a Portable food delivery platform which can be installed to produce food formulations under the same conditions anywhere in the world. Once a product has been tested and validated in the portable powder blending plant there is no need for future reformulations or engineering led adaptions to new processing facilities, neither for retesting or validation with different product, equipment or service providers. You just move your food formulation to the process plant or "food delivery platform" where it makes most economic sense at any time.

After the introduction of portable powder blending by Blendhub there will no longer be any need to close old facilities and open new ones with the huge economic implications that this encounter, neither will it be necessary to spend precious time and money looking for adequate partnerships to enter new markets or support the expansion of local/regional brands to new areas.

With us you can fast track the industrial validation of your food formulation, connect with our BlendAPP 24/7 team and calculate the optimal location for your "food delivery platform", decide on the services needed and GO.

At Blendhub Corp we believe that creating a more just and safer access to food reaching more people in more places is the main challenge of the world today – what do you think?