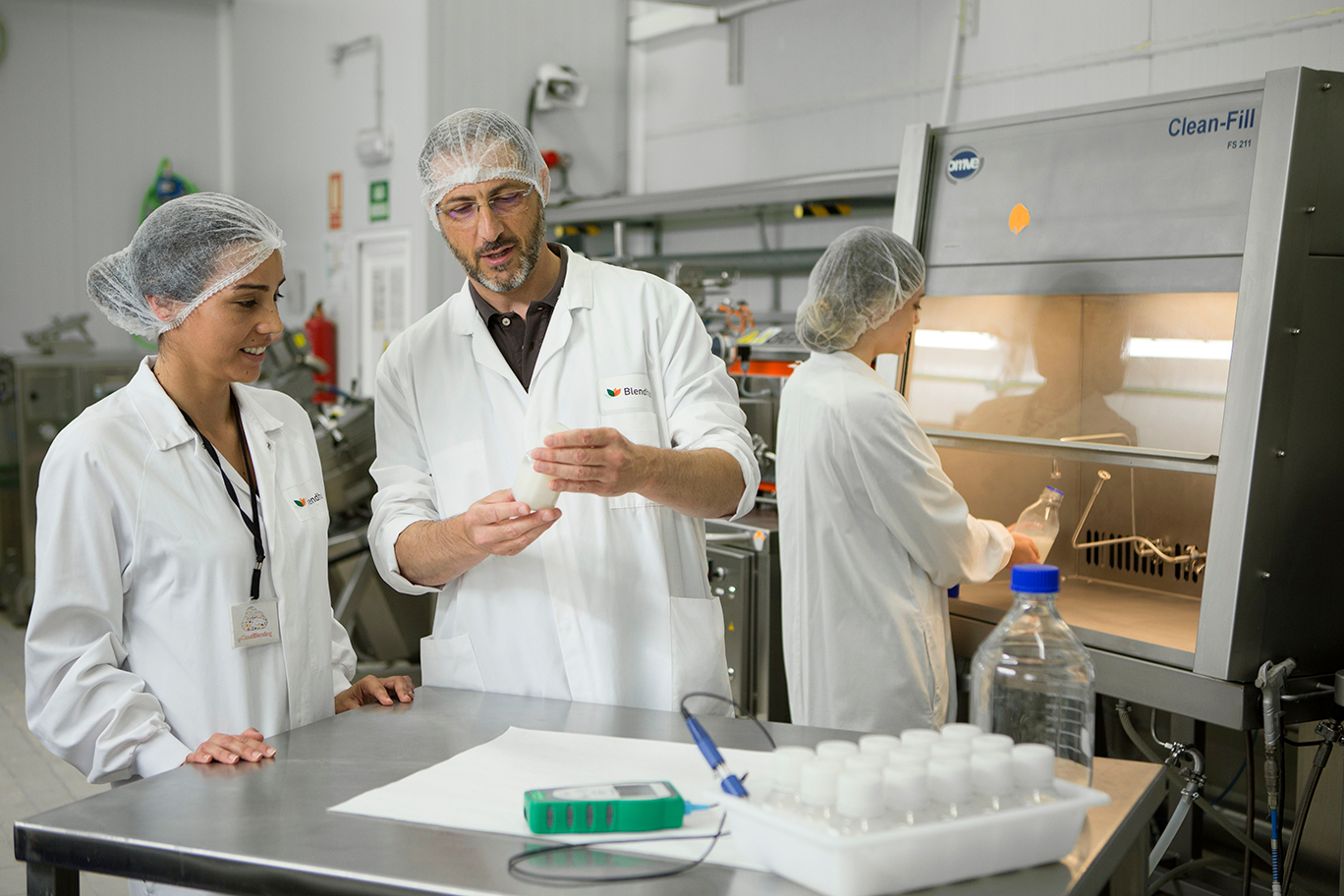 09 Aug

Blendhub in CTC Alimentación Magazine

Blendhub was featured in an article from CTC Alimentación Magazine in August 2019.
Interview with Olivier Navello, VP of Global Technical at Blendhub
For their Mindful Eating issue, CTC Alimentación Magazine came to our Hub in Murcia to chat with our Vice-President of Global Technical, Olivier Navello.
Olivier has been with Blendhub since 2013 and manages a team of 20 Research and Development (R&D)and Quality technicians in our hubs around the world. In this interview, carried by Manolo Castellano from CTC Alimentación, he explained how Blendhub helps companies of all sizes reach international markets and access resources to carry on research and product development through our Open Innovation business model.
Read a translated excerpt of the interview below, or find the original article in Spanish here:  https://ctnc.es/revistasctc/year
Manolo Castellano: What is Blendhub, Olivier? How was your company born?
Olivier Navello: Blendhub is the result of the merger of five agri-food tech start-ups developed by its founder, Henrik Stamm Kristensen, over more than 20 years, and which today offers an entirely new business model called #CloudBlending.
Thanks to this business model, Blendhub can localise its customers' food and nutrition production anywhere in the world through its worldwide network of Hubs offering services in powder blending, packaging and quality control in the cloud.
So, you work internationally, right?
Of course! We started our internationalisation in 2011 when we deployed our first portable and modular blending plant to India to drastically shorten the costs and delivery times of stabilisers to our customers in the Middle East.
Today we provide our customers with this same service through a "pay per use" model, i.e. without CAPEX, of powdered food production anywhere in the world. In addition to Spain, we currently have two production centres in India, two in Mexico and one in Colombia and serve customers both inside and outside these countries. And our development plan is ambitious, as we are planning to deploy the 50 hubs that will make up our network in the coming years.
This multi-localized service model makes us the ideal partner for both start-ups and multinationals that can benefit from our services with the highest quality standards anywhere in the world.
As a company, when can you afford such internationalisation strategies?  
Thanks to the model offered by Blendhub, any company can afford it without having to reach a high volume of production.
We work with multinationals that are looking for a strategic and unique partner to test new products and markets, or to produce complex references for their very inflexible production lines (gluten-free, for example), or to ensure their contingency plan; but also with start-ups that are looking to materialize their ideas very quickly and safely.
We have examples of companies that have approached us with a concept that is still in its infancy and that we have turned into a product that they now sell in supermarket chains, international markets and on the Internet.
Of course, and that's not all. There's also the issue of traceability because you know exactly where the raw material comes from.
Food safety is a very critical issue for us, and we ensure traceability from the raw material to the finished product. In fact, all raw materials and all finished products that pass through any of our Hubs are subjected to a control process similar to "fingerprinting" thanks to Chemometric Brain, a proprietary technology software based on near-infrared spectroscopy. This control in situ and from the cloud allows us to ensure traceability and quality control at any point in the production process.
In the case of not being able to develop R&D projects, either due to a lack of personnel, infrastructure or simply because there is no culture in the company to do so, how can you take advantage of an existing platform? What kind of platforms are those? 
Blendhub is the answer, of course! We are the platform that brings together all the players in the food chain, from raw material producers to end customers, including machine manufacturers, technical experts and researchers from all over the world, in a healthy ecosystem. We are nobody's competition, and we collaborate with everyone, following the Open Innovation model that leaves behind the old "black box" model.
We are convinced that transparency not only accelerates the development of R&D projects but also eliminates all unnecessary costs induced by intermediaries that do not contribute with any value.
What are your R&D challenges?
They are many, but to highlight one in particular, I would say that the main challenge is to understand and follow the needs of the consumer. I commented earlier on how our global and local organisation was supporting our internationalisation.
It has been the result of our previous attempts to penetrate the Indian or South American markets from Spain, although our lack of local presence did not allow us to fully understand the needs of our customers in these countries. Everything has changed almost immediately, and our growth has become exponential from the moment we have hired local teams, starting with the general manager of each Hub who acts as an accurate translator of Blendhub's business model in each country.
Another example of this complexity can be found in the new consumer trends. If we talk about the "clean label" trend, for example, the consumer looks for a product with no e-numbers on its label thinking that in this way they will be consuming a healthier product. And for the same reason, this same consumer is usually also a follower of the "vegan" trend and seeks to consume foods such as milk, cheese, sausages, hamburgers made from a hundred percent vegetable base. However, in this case, it does not pay as much attention to the list of e-numbers, which is usually much more significant than any of its dairy or meat equivalents.
To carry out your R&D projects, what kind of scientific profiles enter Blendhub?
We have a multidisciplinary technical team, including doctors, biologists, chemists and engineers. We also collaborate with freelancers, universities and technology centres. But qualifications and technical skills are not everything.
What is absolutely essential to be aligned with Blendhub's vision is to understand innovation and transparency, in other words, Open Innovation, as the only way to truly change the world. And all the professionals who in one way or another collaborate with Blendhub have to be driven by this same passion.